What is it that makes olive oil good?
How one project is boosting olive oil quality in Morocco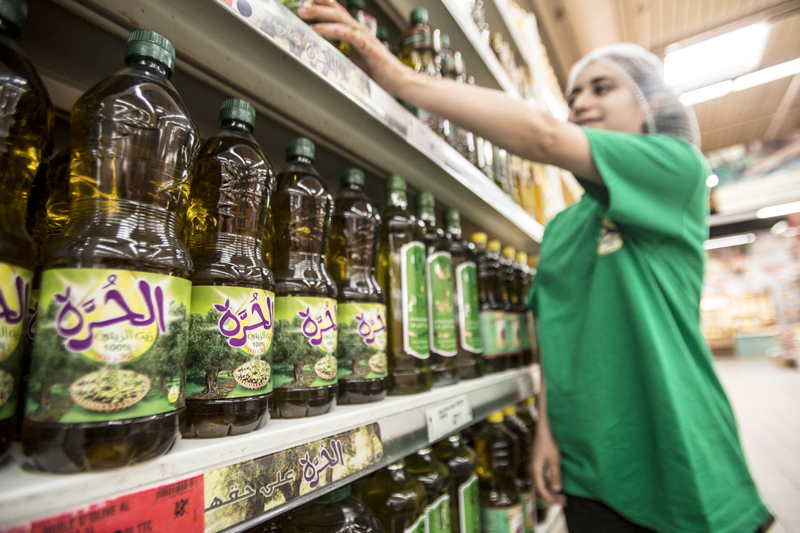 29/11/2021
Olive oil: rich in monounsaturated fats and antioxidants, it is a staple in many kitchens throughout the Mediterranean, and increasingly, around the globe.
But what makes olive oil good quality? How do you know that what you're drizzling on your salads or grilled vegetables contains all those nutrients?
Much can happen from tree to bottle to throw off an oil's balance. Like any natural juice, olive oil deteriorates over time. Mishandling, exposure to heat, direct sunlight and oxygen can break down the oil's polyphenols (antioxidants that occur naturally in plants) and fatty acids, increase its acidity and leave a bad taste. That's why careful handling at all stages is important – from pruning and harvesting to milling, storage and packaging.
Since 2015, FAO and the European Bank for Reconstruction and Development (EBRD) have worked with key olive oil industry players like Interprolive, Morocco's inter-professional olive federation, to improve quality across the supply chain and help the country's olive oil industry fulfil its potential, becoming more competitive globally and boosting incomes for farmers and producers.
Focus on quality
Like many Mediterranean countries, Morocco boasts ideal olive growing conditions for local varieties like the Picholine marocaine, an olive packed with antioxidants. Morocco has already invested in modernizing the supply chain and some producers are exporting to high-end markets, winning international acclaim – but the sector still has some way to go.
To strengthen the olive oil industry in Morocco, FAO, the EBRD and Interprolive have worked together on the Olive Oil Sector Support project. With support from the European Union (EU), they have conducted training sessions and awareness-raising activities throughout the country's olive-producing regions on various aspects of oil production. So far, around 1 300 people, including farmers and processors from large cooperatives and small family farms, have taken part.
Thanks to hands-on training, olive oil farmers have learned good management practices, such as pruning techniques that can help prevent pests and disease and reduce extreme yearly yield variations. Processors and millers learned about how the latest extraction technologies can produce premium oils. Each participant received a checklist of best practices along with a booklet on how extra virgin olive oil should and shouldn't taste, and what can go wrong in the production process to cause defects.
Quality over quantity
The project's ambition is to improve both Morocco's olive oil production and increase local consumer demand for quality olive oil, ultimately supporting the livelihood of olive farmers and producers. 
"In Morocco and elsewhere around the Mediterranean, many consumers have gotten used to highly fermented and oxidized olive oils whose original, natural characteristics have degraded," says Ahmed Khannoufi, Director of Interprolive, the project's main implementing partner. Oxidized oils not only taste rancid, but they are actually less nutritious.  
"There is work to be done to change consumers' perception of what constitutes a good olive oil and to provide them with clearer, more informative and, above all, trustworthy labels," he says.
According to the International Olive Council's classification, extra virgin olive oil is the highest grade among edible olive oils, with virtually no detectable degradation. Lampante oil has the lowest quality, high in oxidized fats and undesirable volatile compounds, which give it an unpleasant smell and taste. However, consumers often do not know what these classifications mean. Only four percent of the 1 250 consumers surveyed by the projects were familiar with virgin olive oil terminology.
Interestingly, there is little price differentiation in Morocco by quality and paradoxically one could pay more for a lower quality oil. This is why the project worked on raising consumer awareness, helping them recognize the hallmarks of good quality olive oil – fruity, bitter, odorous – and encouraging them to buy olive oil that is properly packaged, sealed and labelled.
To do so, FAO and the EBRD are promoting issues like better quality certification, labelling and traceability systems and getting the word out to consumers and industry insiders alike on why good quality olive oil matters. One such activity was organizing blind tastings for urban consumers, olive oil producers and industry insiders throughout Morocco, including at major industry events like the International Agriculture Exhibition in Meknes (Salon International de l'Agriculture de Meknès). 
For Houria Harrame, an extension agent from a local agricultural advisory body, learning how the nutritional content of good quality olive oil is linked to its taste was a revelation.
"I didn't realize what I had been giving my family all these years," she jokes after a tasting session in Meknes, saying she is now more conscious of buying better quality olive oil for her household.
The next level
With FAO and EBRD's support, the country will continue to carry out more awareness campaigns on quality, targeting not just consumers but also distributors, restaurants and cafes.
Producing even more high-end, extra virgin olive oils and raising the profile of Moroccan olive oils locally and abroad can also go a long way to transforming the industry.
As we mark World Olive Day, it is a good reminder that a focus on quality is good all around – for the economy, for livelihoods and for nutrition.