The buzz around Turkish pine honey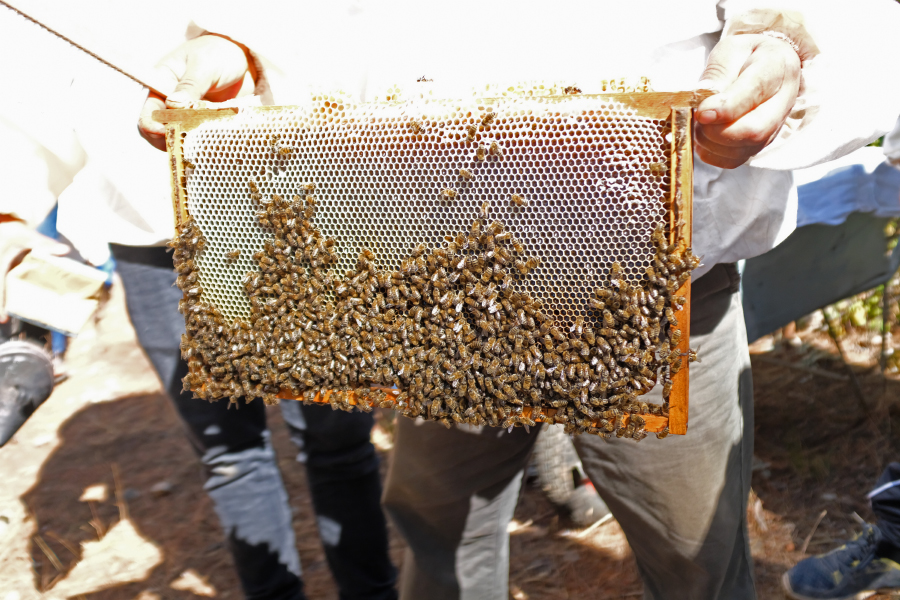 20/05/2020
FAO celebrates the third annual World Bee Day today.
This year's event, organized around the theme "Bee Engaged," shines a spotlight on the huge role bees and pollinators play in the foods we eat and the health of our environment. 
The day is not just for the bees, but also recognizes the role of beekeepers. They safeguard bee populations and their biodiversity, and improve global food security through a wide range and quality of nutritious foods and food products. 
One such product is pine honey.
This resinous honey has a distinctive flavour, with stronger notes of spice compared with its flower honey cousins. More than 90 percent of the world's pine honey comes from Turkey.
FAO and the European Bank for Reconstruction and Development (EBRD) have been working with Turkey's pine honey industry to strengthen the sector – making it more efficient, sustainable and inclusive – and to increase this special honey's recognition worldwide.
What's in a name? 
With EBRD/FAO support, Turkey is moving to register its pine honey as a geographical indication, or GI, to preserve this local knowledge and inspire future generations to carry on this beekeeping tradition.
A GI is a public label that recognizes the link between a high-quality product and its place of origin. A GI protects the name and reputation of a product from a specific region that follows certain criteria, including traditional production methods.
In the case of Turkish pine honey, beekeepers transport bees to pine forests on the country's Aegean coast. There the bees collect honeydew from the residue left by a scale insect species  – Marchalina hellenica – that only live on the sap of certain pine trees.
Registering the pine honey with a GI also gives producers greater incentive to protect the biodiversity and natural resources that make their pine honey so unique. This is significant, as Turkey is home to one-fifth of the world's 25 bee sub-species.
The GI label, which caters to consumers who value quality, authenticity, and reputation, can also help producers earn higher incomes.
As the Turkish pine honey sector has grown, pressure has built to register the honey as a GI at European Union level. This would not only insulate the market from counterfeit pine honey but also open up more international market opportunities.
Greater resilience and recognition 
Though the GI registration process only began last year, the initiative has laid the groundwork for improvements to be made to Turkey's honey sector, including enhanced coordination along the supply chain. 
Building an association within the pine honey industry, also supported by the FAO-EBRD joint project, will encourage improved product quality, strengthen their bargaining power and encourage innovation.
With COVID-19 causing major disruptions and hardship across the globe, travel-related restrictions threaten honey production and pollination, which could have an impact on this summer's pine honey season. 
The steps Turkey has taken to strengthen its honey sector could make the industry more resilient to economic and logistical shocks. 
As the global community marks World Bee Day, the EBRD and FAO acknowledge the importance of bees to our food and biodiversity and to the beekeepers and producers whose livelihoods protect those bees.