As demand for nuts grows, Georgian producers look to shift to more commercial production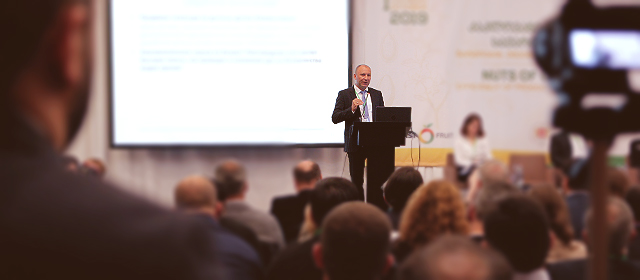 25/09/2019
Global demand for nuts is strong and growing
Georgia's climate is ideal for growing almonds, walnuts, pistachios and hazelnuts
International conference highlights global nut trends and commercial nut opportunities in Georgia
Nut industry experts share technical knowledge for optimal production and marketing
Around 150 producers and industry experts were in Tbilisi today for a one-day conference on global nut trends, the current state of Georgia's nut sector and opportunities for growth.
Following the conference, international experts led two parallel training sessions on modern production and handling techniques for walnut, hazelnut, almond and pistachio growers.   
The "Nuts of Georgia: efficiency of production and marketing" conference was organized by the European Bank for Reconstruction and Development (EBRD) and the Food and Agriculture Organization of the United Nations (FAO), with support from the European Union through its EU4Business initiative.
Nuts are an economically attractive crop. Their value is higher than most fruits and vegetables, they require fewer inputs and labour per hectare and they are not as perishable as fresh produce. Also, global demand is strong and growing.   
Georgia boasts an ideal climate and ample water resources for growing almonds, walnuts, pistachios and hazelnuts. Although hazelnut production is well-established in Georgia – it is one of the top global exporters of hazelnuts– the country remains a net importer of walnuts, pistachios and almonds.
To fully reap the benefits of Georgia's Deep and Comprehensive Free Trade Agreement with the EU, for example, the country needs to build the capacity of its producers to become more competitive in domestic and export markets. 
Today's event, which was opened by Georgia's Minister of Environmental Protection and Agriculture, aimed to shed light on potential new sources of export revenue for Georgia and a move toward more commercial nut production.  
Leading experts from Europe and the United States shared technical knowledge on optimizing the management of almond, pistachio, walnut and hazelnut orchards, while also addressing the economic aspects of such operations. 
Although nuts have a longer shelf-life than fresh fruit, they can become rancid if not stored properly. One of the day's master classes was devoted to training hazelnut producers on how to dry and store the nuts in order to avoid mould 
The conference and trainings were part of a broader EBRD/FAO initiative to improve access to high-value markets for farmers in Georgia, Moldova, Tajikistan and Uzbekistan.
To date, more than 20 events have been held in the project countries, sparking new investment interest in modern horticultural production.  
The east-fruit.com platform, supported by the project and managed by several horticultural associations, provides daily high quality market information to help growers and traders make informed decisions. The platform already sees around 50,000 users each month in the target countries and elsewhere.  
The EBRD/FAO initiative has also helped facilitate many trade deals through east-fruit telegram-based platforms currently used by more than 2,300 farmers, importers and exporters in 22 countries.
The initiative complements the Georgian Government's 'Plant the future' programme, which supports the planting of walnut and almond orchards.  
The EBRD and FAO are organizing a similar conference for the nut industry in Tajikistan on 8 October.
Over the years, the EBRD has invested more than EUR 262 million in Georgia to strengthen the country's agribusiness sector.
Photo credit Photo by "Nuts of Georgia: efficiency of production and marketing" conference