Greening the agrifood sector in Kazakhstan and Kyrgyz Republic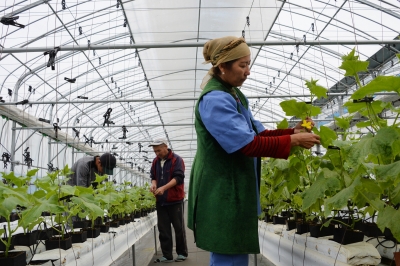 11/09/2019
Greater adoption of climate technologies in the agrifood sector is an important step towards more sustainable food systems. Such technologies can help improve productivity, reduce carbon emissions, build climate resilience and make better use of natural resources.
FAO and the EBRD developed a methodology to identify and prioritize climate technologies in the agrifood sector based on their potential to mitigate greenhouse gas emissions and contribute to climate change adaptation. The work was done within the Finance and Technology Centre for Climate Change (FINTECC) programme, and first tested in Morocco in 2016.
In 2018, FAO and the EBRD used the methodology to conduct rapid assessments of climate technologies in the Kyrgyz Republic and Kazakhstan. They looked at technical and financial parameters, economic-wide impacts, sustainability and institutional and regulatory aspects. Both countries have seen a considerable rise in agrifood emissions over the past 15 years, largely due to expanded livestock production.
The studies found that by investing USD 1 billion in climate technologies in the Kyrgyz Republic and USD 2.3 billion in Kazakhstan, agrifood sector emissions could be reduced by almost 60 percent and 30 percent, respectively.
In the Kyrgyz Republic, pasture improvement has by far the greatest mitigation potential, followed by manure management, drip irrigation and improved greenhouses. In terms of adaptation potential, drip irrigation is the most promising technology given its ability to increase water availability and agricultural production. Next are pasture improvement, manure management, improved greenhouses and conservation agriculture.
In Kazakhstan, pasture improvement has the best mitigation potential, then conservation agriculture, field machinery and precision agriculture, while drip irritation has the best adaptation potential.
FAO and the EBRD shared the studies' findings during workshops in both countries. They also looked at challenges and opportunities for private sector investment and identified areas for public support and cooperation with IFIs and resource partners to accelerate technology deployment.
Photo credit ©FAO/Vyacheslav Oseledko / FAO