Fall armyworm (FAW), Spodoptera frugiperda, is a dangerous transboundary insect with a high potential to spread rapidly due to its natural distribution capacity and opportunities presented by international trade. FAW represents a real threat to food security and livelihoods of millions of smallholder farmers. FAW has spread across all of sub-Saharan Africa, the Near East and Asia. In response, TCP projects contributing more than $13 million to date have been operational across the most affected areas. The immediate response through TCP and presence on the ground has so far catalyzed additional donor support for a total value of USD19.2 million on top of what has been invested by countries themselves.
TCP OUTPUTS FOR FALL ARMYWORM
0
Technical Products Delivered
0
TCP Contribution Million USD
Indicative regional appropriation of TCP funds for Fall Armyworm strategy (USD mln)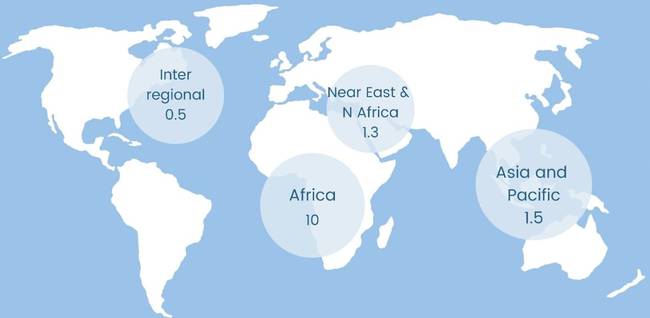 When the Fall armyworm outbreak was first reported in the country, the Government of Zimbabwe had limited resources with which to respond...

Le Cabo Verde subit depuis juin 2017 l'invasion de la Chenille légionnaire d'automne (CLA), un ravageur qui menace la production de maïs nationale et au-delà...
Fall Armyworm (FAW) outbreaks in one locality in the southwestern part of Ethiopia in early planted maize caused serious damage to maize.

One of the easiest ways to ensure access to a healthy diet is food production in home or school gardens, which can further contribute to combating hunger, poverty and illiteracy...

Ghana was hit by the outbreak of the Fall Armyworm (FAW) in 2017. The pest destroyed several hectares of farms in the country, especially maize farms...

The pest was first observed in Nigeria in 2016, and since then has continued to ravage maize fields at an alarming rate...

La Chenille légionnaire d'automne (CLA) s'attaque aux principales cultures de céréales et aux cultures maraîchères. Elle a été identifiée pour la première fois en Guinée Bissau en août 2017...
Given the tendency of FAW to migrate long distances, it was only a matter of time before the populations from either Kenya or Ethiopia reached Somalia.