TCP and FAO's COVID-19 Response and Recovery Programme
FAO's comprehensive and holistic COVID-19 Response and Recovery Programme is designed to proactively and sustainably address the socio-economic impacts of the pandemic. In line with the UN approach to "build back better," and in pursuit of the Sustainable Development Goals, it aims to mitigate the immediate impacts of the pandemic while strengthening the long-term resilience of food systems and livelihoods.
Through extensive analyses, ongoing consultations with decentralized offices and bilateral discussions with resource partners, FAO identified seven key areas of action needed to ensure rapid and continued support to the most vulnerable while anticipating the secondary repercussions of the virus.
As of October 2022, a total of 130 TCP projects for a value of USD 28 million have been approved in response to requests from member countries. There are an additional 8 projects for USD 2 million being prepared for approval right now. The assistance is fully aligned with the priorities areas of the COVID-19 Response and Recovery Programme and countries in all regions have requested assistance from FAO in support of their efforts to deal with the pandemic.
Distribution of TCP funded COVID-19 support by Region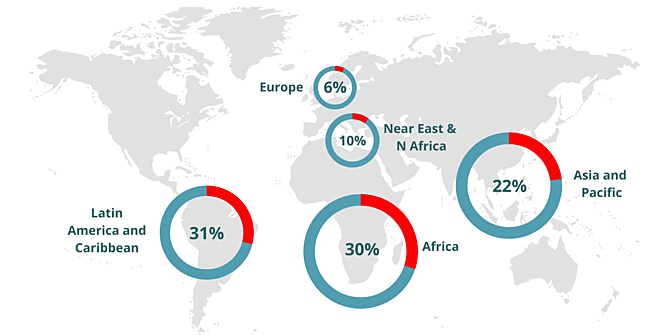 Distribution of TCP funded COVID-19 support by Priority Area