Events
WASAG at the Stockholm World Water Week 2021
24/08/2021 0:00 - 25/08/2021 0:00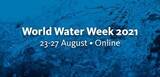 Virtual
Sweden
Join WASAG at the 2021 WWW for the two following sessions:   The WASAG working group on water and nutrition advances progress toward international food and water goals through sharing research findings, practical tools, and policy dialogue. This session showcases new insights into the multiple and synergistic roles of water in food...
Celebration of World Water Day 2021
22/03/2021 0:00 - 22/03/2021 0:00
Virtual
Italy
World Water Day 2021 - Valuing Water: addressing water scarcity in agriculture is crucial in valuing water Celebrating the World Water Day is part of the life of WASAG Every year, 22 March has been set aside to mark World Water Day. The 2021 edition titled "Valuing Water" will be celebrated in...
FAO-OECD Roundtable on Financing Agricultural Water
27/01/2021 0:00 - 28/01/2021 0:00
Virtual
Italy
FAO in partnership with the OECD, organized the 7th meeting of the Roundtable on Financing Water on 27 and 28 January 2021, as a thematic meeting focused on financing agricultural water. This meeting supports the OECD's broader work on financing water as well as FAO's strategic priorities on promoting investments in agricultural...