Webinar "Saline Agriculture: Scaling up Opportunities and Challenges"
The working group on "Saline Agriculture", under the framework of WASAG, organized a webinar titled "Saline Agriculture: Scaling up Opportunities and Challenges" to share knowledge and experience on global projects related to saline farming, as well as smart digital approaches and solutions.
Under the COVID-19 pandemic, unprecedented challenging conditions push focus on how the local food production could be enhanced by utilizing low-quality water and land resources, such as brackish groundwater and salt-affected soils.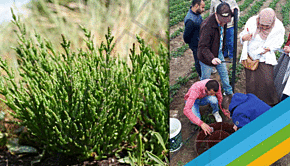 The Global Framework on Water Scarcity in Agriculture (WASAG) hosted by the FAO Land and Water Division held its second webinar on Saline Agriculture titled "Saline Agriculture: Scaling up Opportunities and Challenges". The objective of the webinar was to share knowledge and [...]
Presentations

This presentation includes:
"Projects on Halophytes value chains in MENA region"
"Opportunities for cultivation of conventional vegetable crops under saline conditions"
"Implementation of a Decision Support Tool (DST) under saline conditions - A showcase of the Mediterranean Region"
Speakers
Dr. Ismahane Elouafi – Director General, ICBA
She joined ICBA as Director General in 2012. Prior to that, she had held management positions with the Canadian Food Inspection Agency and Agriculture and Agri-Food Canada. She also worked as a scientist with several international research organizations, including the International Center for Agricultural Research in the Dry Areas (ICARDA), Japan International Research Center for Agricultural Sciences (JIRCAS), and International Maize and Wheat Center (CIMMYT). She holds a Ph.D. in Genetics (Cordoba University, Spain) and has a passion for science, its management, and its integration with policy. She believes that science has to be the basis of decisions and development plans in order to achieve efficiency and alleviate discrimination and poverty. She is a recipient of many international awards, including the Excellence in Science award from the Global Thinkers Forum (2014), and the National Reward Medal by His Majesty Mohamed VI, the King of Morocco (2014). In 2014, Muslim Science ranked Dr. Elouafi among the 20 Most Influential Women in Science in the Islamic World under the Shapers category, and the CEO-Middle East Magazine listed her among the World's 100 Most Powerful Arab Women in the Science category.
Ms Dionysia-Angeliki Lyra – Halophyte Agronomist, ICBA
Dr. Dionysia Angeliki Lyra joined ICBA as Post-Doctoral Researcher in 2013. Prior to that, she had been on a post-doctoral fellowship at the Laboratory of Agronomy at the Agricultural University of Athens where she was involved in the evaluation of barley genotypes for drought resistance and crop yield. She holds a Ph.D. degree in Plant Science from the Agricultural University of Athens, Greece and she has received scholarships and grants from the Hellenic Ministry of Educational Affairs, E.U., European Weed Research Society, Arab-American Frontiers, USAID and private sector. Currently she is working on the evaluation of Salicornia bigelovii germplasm and its cultivation potential in coastal desert areas and on Integrated Agri- Aquaculture Systems (IAAS) using reject brine from inland desalination units. She has authored and co-authored over 50 publications, including a technical manual on principles of sustainable agriculture and water management, articles in peer-reviewed journals, conference papers and research reports.
Mr Arjen de Vos – Director, The Salt Doctors
Dr Arjen de Vos specialized in saline agriculture 19 years ago during his Masters at the VU University in Amsterdam, The Netherlands and since his PhD he was working as the Director R&D for Salt Farm Texel (2010-2019), focussing on a practical approach to identify salt tolerant crops. During those years, over 800 varieties of 50 different crops have been tested for salt tolerance. We have found salt tolerant varieties of conventional crops and we have also implemented the cultivation in various countries like Bangladesh, Pakistan and Kenya. Besides the research and implementation, Arjen is also contributing to scientific papers, he is part of the EU focus group on soil salinization and an active member of the WASAG-FAO workgroup on saline agriculture. Recently, he has started his own company called The Salt Doctors. The mission is to empower farmers to become more resilient in times when they are faced with increasing salinity levels of both water and land. We do this by providing them with the knowledge, the skills and the seeds to make agriculture under saline conditions both possible and profitable. Putting saline agriculture on the international agenda, help farmers to grow food in salt affected areas, and make saline agriculture a mainstream form of agriculture are his greatest ambitions.
Mr Andres Parra Gonzalez – CEBAS-CSIC
Andrés Parra González is part of the Irrigation Department of the Spanish National Research Council (CEBAS-CSIC) in Murcia, Spain. He holds a Bachelor degree in Social and Enviromental Sciences and a Master´s degree in Agroecology. He has being working on crop salt tolerance under field conditions in the Netherlands during the last 5 years, colaborating in the implementation and development of saline agriculture projects in countries like Bangladesh or Egypt. Last February, he joined CEBAS-CSIC, where he is currently working on the improvement of the water use efficiency and the use of non-convenitonal waters for irrigation in the Mediterranean Region through different projects.
Programme
15:00-15:05 Opening remarks and Moderator, Dr. Ismahane Elouafi, Director General of ICBA
15:05-15:10 Opening remarks H.E Mohammad Hossein Emadi, Permanent Representation of the Islamic Republic of Iran to FAO
15:10-15:40 "Presentation on Saline Agriculture: Scaling up opportunities and challenges"
Specific topics addressed:
"Projects on Halophytes value chains in MENA region" Dionysia-Angeliki Lyra, ICBA
"Opportunities for cultivation of conventional" vegetable crops under saline conditions" Arjen de Vos, The Salt Doctors
"Implementation of a Decision Support Tool (DST) under saline conditions - A showcase of the Mediterranean Region" Andres Parra Gonzalez, CEBAS-CSIC
15:40-15:55 Discussion / Q&A
15:55-16:00 Closing Remarks, Mr Eduardo Mansur, Director, FAO Land and Water Division