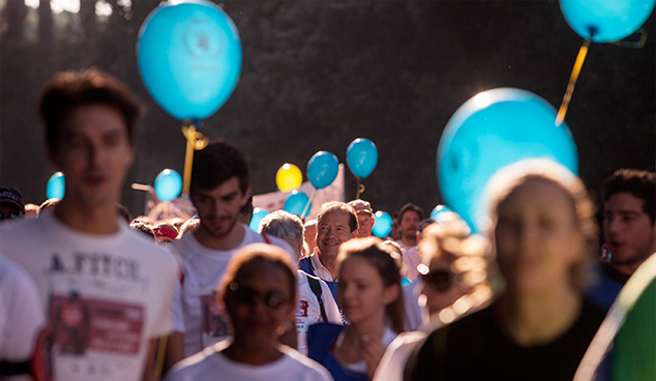 About the ZERO HUNGER RUN
World Food Week came to a close in Rome with the Zero Hunger Run (ZHR), held on World Food Day, 16 October. Over 2,400 runners from all over expressed their solidarity in the fight against world hunger and malnutrition through their participation in this year's run through the historical centre of Rome.

Organized by FAO, the International Fund for Agricultural Development (IFAD), World Food Programme (WFP), and Bioversity International - with the technical support of Gruppo Sportivo Bancari Romani (GSBR), the official gunshot blasted at precisely 10:00 on a bright Sunday morning, outside the historic Baths of Caracalla, beside FAO headquarters.
The event was divided into two races: a 10 km competitive race and a 5 km non-competitive race/walk, making it easy for all people, regardless of their fitness level, to join in the fun. […]
When and where
Sunday, 16 October 2016, Viale delle Terme di Caracalla, Rome – Streets in Rome's historic centre will be closed to traffic on the morning of Sunday, 16 October.
Meeting time is from 8.00 onwards, and the starting shot for both the 10K race and the 5K non-competitive run / walk will be fired at 10 a.m. Departure point is Viale delle Terme di Caracalla, next to the Caracalla Stadium.

For more detailed information on race regulations, prizes or registration, click here