Zhao Wenhua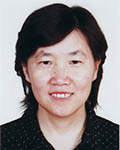 Dr Zhao holds a Bachelor degree of medicine from the Beijing Medical University and Master Degree of Nutrition from the University of Philippines, and Ph.D. degree in nutrition from the Kagawa Nutrition University of Japan. She has worked in the field of public health for 33 years.
Dr Zhao was the field director of the China National Nutrition and Health Survey in 2002 at the Institute of Nutrition and Food Safety of China CDC. She was the Director of National Working Group of 2010 China Chronic Disease and Behavior Risk Factors Surveillance at the National Center for Chronic and Non-communicable Disease Control and Prevention of China CDC. She has considerable experience and expertise in both dietary assessment methods and Nutrition Epidemiology in China. She has developed and validated the Chinese Food Frequency Questionnaire (CFFQ) for use in various populations in China. Moreover she has worked on the prevalence and burden of obesity, diabetes and related factors among adults. Dr. Zhao has also worked extensively on the policy making, health promotion and education on balanced diet and active lifestyle.
Dr. Zhao has published more than 100 scientific articles, books and book chapters in the area of diet, nutrition, lifestyle and chronic disease control and prevention.
Contact: [email protected]