Asia-Pacific Symposium on Agrifood Systems Transformation (hybrid event)
Did you miss the October 5-7, 2022 event? Or maybe you'd like to revisit the discussions?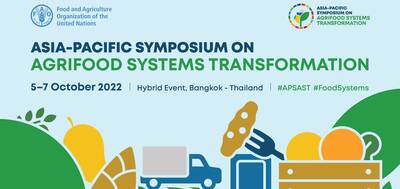 You can find video links to all days here as well as photos and other useful information.
And the agenda is here.
For further information, please contact:
Sridhar Dharmapuri, Senior Food Safety and Nutrition Officer
Better Nutrition, Better Production, Better Environment and Better Life
FAO is supporting the Four Betters through the transformation to more efficient, inclusive, resilient and sustainable agrifood systems, leaving no one behind.
The betters reflect the interconnected economic, social and environmental dimensions of agri-food systems.
The four regional Priorities for Asia and the Pacific region will implement actions to achieve the Four Betters:
Regional Priority One: Transforming agrifood systems for sustainable production and healthy diets
Regional Priority Two: Accelerating sustainable natural resources management for biodiversity conservation and climate action
Regional Priority Three: Supporting inclusive rural transformation for sustainable agrifood systems and equitable rural societies
Regional Priority Four: Building sustainable and resilient agrifood systems in the Pacific Small Island Developing States (SIDS)
Flagship Priorities: