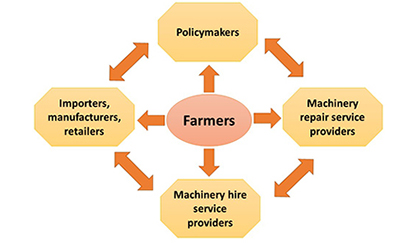 Machinery supply chain
The farm machinery supply chain is a sequence of processes (including decision-making and execution) and flows of materials, information and monetary resources that aim to meet farmers' requirements and needs. It refers to all power sources: human, animal and motorized. The farm power and machinery supply chain includes a range of stakeholders from manufacturers and importers through dealers, hire service providers, repairers and farmers. The purpose of the input supply chain is to provide efficient and quality mechanization services to farmers for agricultural production and processing.
Policymakers are usually up to date on technical innovations. They are usually involved in activities related to the formulation and updating of national mechanization strategies top enable the provision of power to the agricultural sector, improvement of rural infrastructure, facilitation of finance options for machinery acquisition, tax relief on machinery and material imports, batch purchase of machines to be used as incentives, provision of testing services for machinery and materials, and provision of training schemes in technical and business management skills, and the provision of quality extension services.
Importers, manufacturers and retailers are involved in creating demand, synergistic associations, and participate in machinery testing programmes and staff training. They aim to attain a maximum competitive advantage.
Machinery hire services must closely follow farmers' needs and work in close collaboration with other stakeholders to select the most appropriate solutions. They are usually involved in activities relating to business management, quality control, operator training, and maintenance and servicing.
Machinery repair services are frequently undercapitalized and operate out of inadequate premises with insufficient tolls and equipment. They are usually involved in activities relating to business management, in-service training for technical staff, and maintenance and servicing especially for fast moving parts. This also includes artisanal roadside repairers through to certified service agents for manufacturers and representatives.
Farmers are increasingly embracing the free market economy and are demanding positive results from the supply chain. They need to gain better access to agricultural equipment services in order to create better and improved linkages with markets and the commercial sector. The farmers' needs include a functioning support system, improved business expertise, access to knowledge on innovations and joining farmer groups or associations.
FAO provides technical support and backstopping to machinery supply chain development in terms of appraisals, assessments, and diagnoses; supports the development of enabling business environments; enables stakeholder platforms for knowledge exchange and for identifying potential partnerships/collaboration among stakeholders; and advises policymakers.