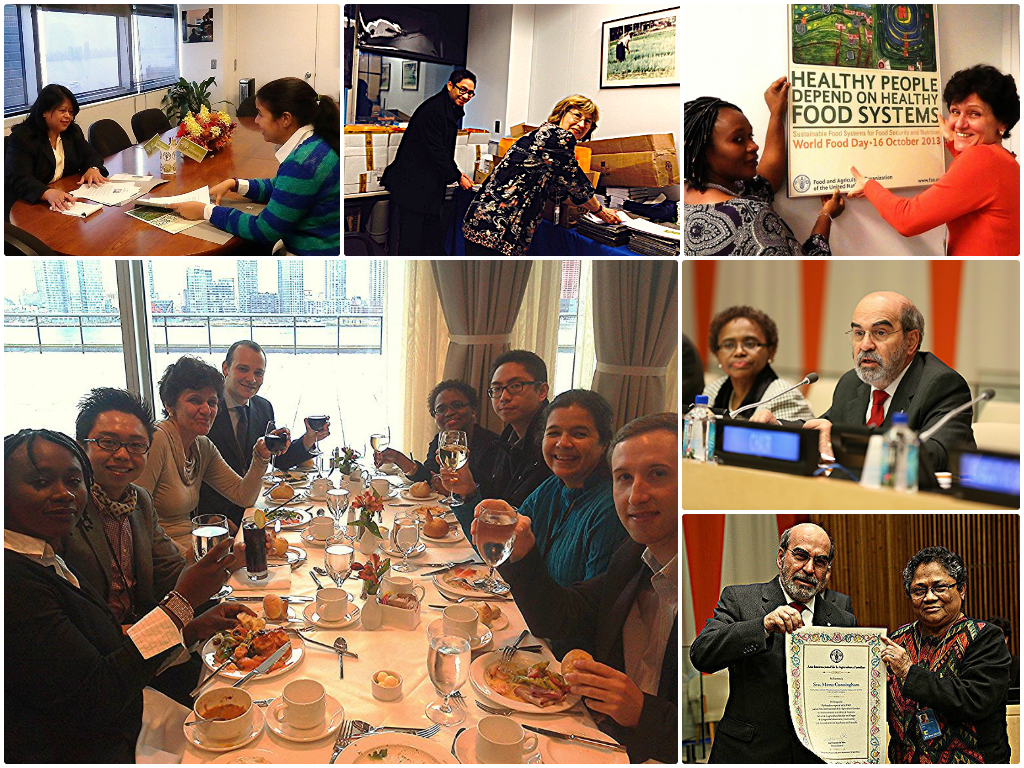 Top left, clockwise: planning logistics; packing materials for distribution; hanging poster; DG speaks; DG nominates Family Farming ambassador; Thanksgiving lunch.
New York: "By encouraging healthy, sustainable food systems, we can all play a part in creating a world where Zero Hunger is no longer a bold objective, but a day-to-day reality." So remarked FAO Director-General José Graziano da Silva on November 23, as World Food Day 2013 at UN headquarters came to a close.
Such exhortations marked the culmination of the FAO DG's latest trip to New York — a five-day whirlwind visit which also featured the official launch of the 2014 International Year of Family Farming; a briefing to the UN's "Group of 77" bloc of countries; the signing of a Memorandum of Understanding with UN Alliance of Civilizations; a UN Chief Executives Boards session; a UNDG Advisory Group Principals' meeting; and extensive consultations with ambassadors and ministers.
Big events necessitate months of preparation, explains Sharon Brennen-Haylock, FAO Liaison Director to the United Nations. "Coordinating events attended by hundreds of dignitaries and other VIPs is no small feat under any circumstances. With a team of just eleven, it's a real accomplishment," notes Ms. Brenen-Haylock. "That things ran as smoothly as they did is a credit to their dedication and expertise."
It is a team as geographically diverse (hailing from 5 continents) as it is few in number, with service to the organization, from 30 years to 3 months, equally varied too. The numbers meanwhile — 331 guests, 1,072 invitations, 402 informational packets, 12 volunteers, and so on — tell only part of the story.
"Simple requests, from name plates to passes to lighting to decorations, become a significant logistical challenge in aggregate," observes FAO New York's Samanta Perez, a native of the Dominican Republican. "Particularly when each request requires working with a different UN office."
Not all preparations were carried out by phone and email, however. FAO New York's conference room itself had the feel of "Santa's workshop", recalls another staffer. "Posters, issues papers, QR code readers…you name it. Even Santa's elves would have been impressed!"
As for the keys to planning and pulling-off a successful high-level event: flexibility, composure, and a ready smile, remarks Taspiru Kamara of Sierra Leone, assistant to the FAO New York Director. "When the last-minute changes start flowing in, a cool head and a sense of humor are invaluable."
Yet what ultimately matters in the end, says 28 year FAO New York veteran and Philippines-born Leyda Verceles, are results. "We just have to deliver. And we do."