About the Congress
In 2015 the Congress will be a key occasion for the world's foresters and forest supporters to gather, to share their expertise and experience, and to project a new vision for the future. This XIV Congress will be crucial as the world will be entering a new development era with the adoption of the post-2015 sustainable development goals. The Congress will be the first global forestry event after this, and it can therefore play a pivotal role in helping to define a sustainable roadmap.
The XIV World Forestry Congress aims to:
clarify why it is so important to recognize forests and forestry as an integral part of sustainable development – from local to national and international levels
identify, analyze and raise awareness of the major issues facing the sector and propose new forms of technical, scientific and policy actions that will result in forests' greater sustainability by linking sound policy to feasible practice
serve as a key venue in 2015 for the world's foresters – from decision-makers to local practitioners as well as partners from other sectors – to share their knowledge and latest findings, in a forum that will allow for challenging, constructive and sometimes controversial debate, the exchange of experience and views, and the fostering of collaborative partnerships and networks
provide a global showcase for the latest developments and innovations i forests and forestry, using multi-media learning platforms to illustrate their practical applications and linkages
ensure that critical issues are visibly addressed and that all key stakeholders, including young people, women, indigenous people and local communities, are given a platform where the voice of the constituencies they represent will be heard.
The Government of the Republic of South Africa will host the Congress, with the Department of Agriculture, Forestry and Fisheries (DAFF) as the focal point. The FAO Forestry Department will provide technical and administrative support and act as a catalyst: strengthening cross-sectoral partnerships and championing the role of forests and trees in a sustainable future free from hunger.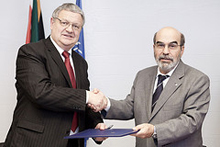 The Director-General of FAO, José Graziano da Silva and Pieter Willem Mulder, South African Deputy Minister for Agriculture, Forestry and Water, signed a Cooperation Agreement allowing FAO and South Africa to begin preparations for the 14th World Forestry Congress to be held in September 2015 in Durban.
"By 2015 we expect that the Congress will present an opportunity for the global forestry community to raise awareness and analysis of key issues that will face the sector then. We will be pleased if the outcome will include new ways to address technical, scientific and policy actions within the forestry sector, " Mulder said. (Rome, 24 September 2012)
The FAO Forestry Department has appointed Tiina Vahanen as the Associate Secretary-General for the Congress. She describes the global importance of forests and what she sees as forestry's greatest challenges in this editorial for FAO Forestry's newsletter inFO news.