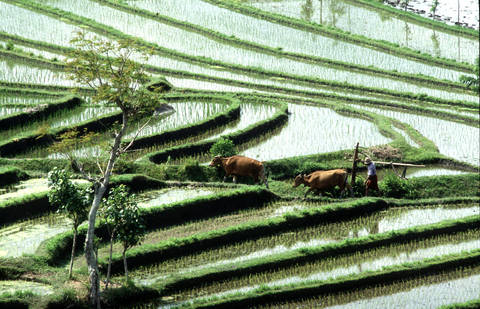 Implementation of the Global Strategy in Indonesia
38.8% employed in agriculture
30.1% land area devoted to agriculture
14.7% share of agriculture in GDP
Challenges
An archipelago of more than 17,000 islands that spreads from Southeast Asia into the Pacific, Indonesia has a young population and rapidly developing economy. Its rural population makes up almost 50% of all citizens. The statistics system in Indonesia is centralized. Coordination with local authorities can therefore be challenging, and local authorities are not always provided adequate resources in respect to their responsibilities.
Indonesia has a central statistics bureau - Badan Pusat Statistik (BPS) - charged with publishing and disseminating official statistics. Though other government ministries, including the Ministry of Agriculture, Ministry of Environment and Forestry, and Ministry of Marine Affairs and Fisheries, as well as local government authorities, have the authority to collect and compile statistics, only the BPS has the authority to disseminate them. The methodology used in key annual survey programs needs to be updated, particularly for rice production. A sound statistical approach is needed for the estimation of the cost structure of timber production - one of the country's most important industries. A review of surveys of another important industry, aquaculture and fisheries, is also a priority.
Current Work
The Global Strategy in Asia Pacific has proposed meeting agricultural and rural statistics needs in Indonesia through the following actions.
· Develop a Strategic Plan for Agricultural and Rural Statistics (SPARS)
· Conduct more statistically sound rice, maize and soybean surveys
· Conduct a more statistically sound paddy rice remote sensing area frame survey
· Replace the horticulture and estate crops current methods with a more statistically sound survey
· Develop better methods for livestock, forestry and fishery statistics
· Collaborate with the relevant ministries to help increase institutional and human resources capacity
Achievements
Four missions and three workshops in Indonesia have led to the production of four key reports to move Indonesia forward in creating a SPARS: an In-depth Country Assessment (IdCA), a country proposal for improving agricultural and rural statistics, a roadmap for SPARS and a SPARS first draft. The government has endorsed and implemented recommended short-term country proposals, and has additionally endorsed the IdCA. The full SPARS is expected to completed in mid-2016.