The Use of Silage Technology to reduce Fish Wastes and Provide Additional Livelihoods
By M Jakiul Islam, Encarnacion Emilia S.Yap, Laddawan Krongpong, Jogeir Toppe, and Omar Riego Peñarubia
This article was first published in the INFOFISH International, Issue 5/2021 (September/October 2021).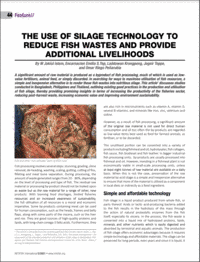 A significant amount of raw material is produced as a byproduct of fish processing, much of which is used as low value fertilisers, animal feed, or simply discarded. In searching for ways to maximise utilisation of fish resources, a simple and inexpensive alternative is to render these fish wastes into nutritious silage. This article1 discusses studies conducted in Bangladesh, Philippines and Thailand, outlining existing good practices in the production and utilisation of fish silage, thereby providing promising insights in terms of increasing the productivity of the fisheries sector, reducing post-harvest waste, increasing economic value and improving environment sustainability.
Download the full article here.