On-board Handling in Small-Scale Fisheries
On-board handling refers to the conditions that fish are subjected to after harvest and through the point of landing, when the fish is transferred on-shore. What happens to fish during this crucial period has implications for food loss and waste (FLW) at the subsequent stages of the value chain.
Unless fish are handled properly, chilled, and good hygiene conditions prevail, spoilage and quality deterioration will accelerate, particularly in tropical areas, where ambient temperatures are high and conducive to rapid bacterial growth.
A key cause of FLW at this value chain stage is in quality and value. It must be pointed out that what happens to the fish before it is hauled into the vessel also can affect quality. For example, spoilage can start as soon as a fish dies for example in a gill net.
A key issue is that many small-scale fishing vessels are not designed or of the size that facilitates good on-board handling. Furthermore, as near shore fish resources have declined, these small vessels often venture further and hence fishing trips have in some cases, become longer.
More Resources
More Resources

One of the major issues prevailing in the fisheries and aquaculture industry in Sri Lanka is the high loss and waste of fish, and it has become necessary to introduce strategies aimed at preventing and...

In Africa, food loss occurs in most, if not all, small-scale fish supply chains, and constitutes not only lost income to fishers, processors, and traders, but also contributes to food insecurity and malnutrition because a...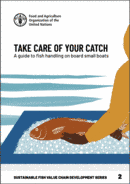 What happens to fish after it is caught has a big impact on its quality. This guide is for fishers, vessel owners, extension services, and anyone interested in how to maintain fish quality.