Markets for Artisanal Fish Smoking
The ability to sell better quality products for a higher price, have access to more markets, or produce products which have a longer shelf-life, can incentivize the use of appropriate technology, such as improved smoking kilns, better packaging, improved practices, and better storage facilities. Appropriate technologies can also add further value to products by helping processors meeting national food safety requirements/certification/standards. A key driver is higher value markets, such as supermarkets and other retailers which provide products to domestic, regional or international consumers.
Access to certain markets, such as the EU, requires meeting food safety standards related to Polycyclic aromatic hydrocarbons (PAH). Products for sale on the EU market are required to have a maximum level of
2,0 μg/kg of Benzo(a)pyrene and a maximum of 12,0 μg/kg for the total of 4 key PAH compounds in smoked fish muscle. (For more information, see section 6.1.5)
As well as the food safety implications, product that contains higher levels will be rejected and likely be destroyed and hence constitute a food loss and waste (FLW).
More Resources
More Resources

One of the major issues prevailing in the fisheries and aquaculture industry in Sri Lanka is the high loss and waste of fish, and it has become necessary to introduce strategies aimed at preventing and...

In this video we will learn how a group of women increased their earnings by working together to produce good quality smoked fish products.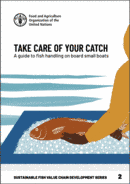 What happens to fish after it is caught has a big impact on its quality. This guide is for fishers, vessel owners, extension services, and anyone interested in how to maintain fish quality.