Fresh Fish Retail
Fresh fish is retailed in a variety of forms from whole, unprocessed and unpackaged, to prepared in modified atmosphere packs. It is sold to consumers by retailers in markets, small shops and "door to door" by mobile fish vendors. Fish retailers are often called fishmongers. What happens to fresh fish during this stage and the actions of retailers has implications for food loss and waste (FLW) at consumer level (see consumer waste).
A UK study found that average figures for retail waste of 5% for fresh fish and 1% for frozen fish with an overall estimate of 6,800tpa of retail waste for the 17 fish species of interest to the study. Retail waste was defined as products that do not sell at full price, and so are considered as a commercial waste to the retailer, it does not necessarily reflect the amount of material that goes for final disposal. Most of the retail waste was said to be avoidable.
According to the Code of Practice for Fish and Fishery Products, retail is an operation that stores, prepares, packages, serves, or otherwise provides fish, shellfish, and their products directly to the consumer for preparation for human consumption. Retailing fresh fish takes place in markets, seafood sections in supermarkets or department stores, mobile stalls, and via traders traveling door to door. Retail market facilities range from basic and informal to organized and permanent state-of-the-art structures with all necessary services. Retailing takes place in rural and urban, coastal and inland areas.
Key causes of FLW at retail include:
Quality deterioration during chill or cold storage
product reaches its "best before" date before it is sold
filleting and preparation of fish for customers
poor analysis of demand and supply leading to over purchase and inability to sell products 
product damage, including damage to packaging
product outside specification or poor quality
product incorrectly labelled
poor handling
lack of chilling or poor chilling practice
inadequate packaging and storage
purchase of poor-quality fish
rejecting product which is visually impaired
Additional waste occurs when food does not meet quality standards or consumer preference. Similarly, the redistribution of non-marketable food by retailers is impacted by laws and regulations, as well as the personal motivation of the retail managers in charge.
More Resources
More Resources

One of the major issues prevailing in the fisheries and aquaculture industry in Sri Lanka is the high loss and waste of fish, and it has become necessary to introduce strategies aimed at preventing and...

In Africa, food loss occurs in most, if not all, small-scale fish supply chains, and constitutes not only lost income to fishers, processors, and traders, but also contributes to food insecurity and malnutrition because a...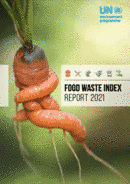 In complement to the Food Loss Index, developed by FAO, the Food Waste Index covers the later stages of food's journey – food waste – occurring at household, food service and retail level.