Year: 2017
Resource type: Presentations
Presentation by Marc Müller, Aikaterini Kavallari, Dominik Wisser and Lorenzo G. Bellù at the XV European Association of Agricultural Economists Congress [Parma, Italy / 29 August – 1 September 2017]. This presentation outlines the challenges in...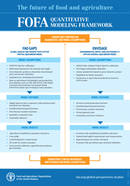 Year: 2017
Resource type: Technical material
The poster provides a schematic overview of the quantitative analytical framework used by the FAO Global Perspectives Studies Team in foresight exercises. It comprises the two main quantitative economic models: the FAO Global Agriculture Perspectives...