Higher total allowable catch for Alaska snow crab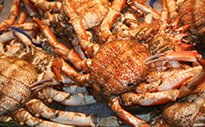 14/01/2019
The total allowable catch for Alaska snow crab has been increased by 47 percent for the 2018/19 season. This will improve the supply situation and possibly put some pressure on prices. Dungeness crab prices are expected to rise in China as US exporters are hit by higher tariffs.
Supplies The Alaska Department of Fish and Game set the TAC for snow crab (Chionoecetes opilio) at 12 620 tonnes for the 2018/2019 season. This represents a 47 percent increase from the 2017/2018 season. The new TAC is based on a recent stock assessment that indicated a biomass increase of 136 percent compared to last year for mature male snow crab, to 198 400 tonnes and for mature females of 55 percent, to 165 000 tonnes.
This increase in the quota will most likely have an impact on market prices. When the 2017/18 TAC was set representing a 50 percent cut, prices increased to the highest levels since 2004, when exvessel prices were as high as USD 4.07 per lb. 
International trade
Global trade of crab is increasing slightly again, after a small decline in 2017. During the first half of 2018, total imports of crab (all types) increased to 185 700 tonnes, about 1.3 percent more than for same period in 2017. China increased imports by 7.0 percent to 39 400 tonnes, while the United States of America decreased imports by 9.2 percent to 54 200 tonnes. Most of the US imports came from Canada (23 400 tonnes or 43.2 percent of total imports).
Russian Federation exports of crab increased marginally to 30 500 tonnes during the first six months of 2018. The main market for Russian Federation crab was the Republic of Korea (19 100 tonnes or 62.6 percent of the total). Chinese crab exports increased slightly to 27 600 tonnes, around 7.4 percent more than during the same period in 2017. Republic of Korea was also the largest market for Chinese crab, accounting for 9 400 tonnes or 34 percent of the total crab exported from China.
In July, the US Center for Disease Control and Prevention (CDC) issued a warning about eating Atlantic blue crab meat from Venezuela, as incidents of Vibrio parahaemolyticus had been reported. This was bad news for US importers and wholesalers. The supply for these species has been tight and demand is growing, so the warning to not use Venezuelan blue crab made supply tighter and pushed prices up.
After stopping imports of Venezuelan blue crab for a couple of weeks, US importers resumed sourcing blue crab treated with hydrostatic pressure processing (HPP) in early August. This non-thermal technology is reported to kill vibrio, listeria, salmonella, E. coli, norovirus and a number of other viruses and parasites.
Prices
The high prices for snow crab that have prevailed for the past two years finally dropped a little in August, mainly for the smaller sized crab (5–8 oz).  The cause for this is seen to be the withdrawal of Japanese buyers from the market. Earlier in the year, Japanese buyers were quite active and kept prices high, but after they pulled out, prices started to slide a little.
The market for Dungeness crab in China is good and it has been relatively stable throughout the year so far. Since the trade war between the United States of America and China has been escalating, supplies are getting very tight. US exports of Dungeness crab were hit by higher tariffs, which increased to 25 percent in July. The volumes that Canadian exporters can supply are not sufficient to satisfy the Chinese market demand. Prices in China are on the rise and have come as high as USD 32.0 per kg. The weakening of the Chinese currency is also contributing to the higher prices, as Chinese importers are paying for Dungeness crab in either US or Canadian dollars. 
Outlook
Snow crab supplies are expected to improve during next year, especially the supplies from Alaska, which will likely lead to declining prices. The trade war between the United States of America and China is putting a halt on exports of crab from the United States of America to China and as demand in China is good and growing, prices may be pushed up. Demand for Dungeness crab in China is good, especially in the south, but Canadian exporters cannot supply enough to satisfy demand.
High prices are thought to have caused buyers to buy less snow crab and look for other seafood items instead. Therefore prices may continue to decline in the coming months. The substantial increase in the Alaska TAC for 2018/19 will improve the supply situation and prices will come down.