Fishmeal - January 2010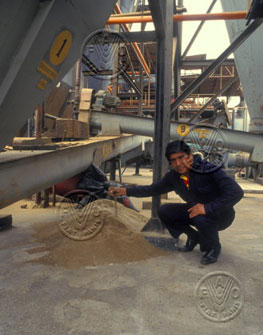 04/01/2010
Fishmeal production continues to decline

Total fishmeal production by the five major producers declined in 2009, continuing a trend started some years ago. Chile is the only country reporting any increase in production, while all others reported lower outputs. Prices have started to move upwards since some months now, and further price increases are likely. China continues to buy huge quantities of fishmeal more than 50% of total fishmeal exports and its strong demand is the reason for the present price hike.
Lower production, but higher exports for Peruvian fishmeal
Peru landed 3.58 million tonnes, almost exclusively anchovy, for fishmeal production in 
the first half of 2009. Some 830 000 tonnes of fishmeal were produced by Peru, 5% less than in the same period of 2008. 
Chimbote and Pisco were again the main fishmeal producing centres. Peru managed to increase its fishmeal exports in the first half of 2009, despite the decline in production. Some 878 000 tonnes were exported during this period, which is 2% more than the corresponding 2008 figure. Greater buying interest by China was the main reason for higher exports.
China was again the main recipient of Peruvian fishmeal, taking 60% of total fishmeal e
xports. Greater buying interest by China in the first half of 2009 resulted in a 100 000 tonnes increase in Peruvian fishmeal exports to that country.

Germany and Japan are very distant second and third ranked importers of Peruvian fishmeal. Both countries imported lower volumes of fishmeal than the previous year, in line with the overall economic crisis. Other importing countries also reported lower fishmeal imports.

Chilean exports of fishmeal increased in the first half of 2009, with some 380 000 tonnes exported, 140 000 tonnes more than in the same period of 2008. The strong demand from China, especially for high quality fishmeal was the main reason behind this growth. The high quality fishmeal is mainly used in the aquaculture industry, which experienced a boom in 2009. Chilean exports to China almost doubled in the first half of 2009. In addition, the present salmon culture crisis meant that the domestic market for fishmeal was severely curtailed and producers had to redirect their efforts towards sales in overseas markets.

German imports of fishmeal increased sharply in the first half of the year. Some 127 500 tonnes were imported, a 52% increase over last year. Peru was the main supplier, accounting for over 90% of total supply. Chile and Denmark, though only marginal players, also reported strong increases in their fishmeal exports to the German market. In importing higher than normal quantities of fishmeal, Germany was taking advantage of low fishmeal prices in the beginning of the year and building up stocks in the expectation of price hikes, which in fact materialized in the third quarter of the year. Imports of fishmeal into Germany are thus likely to slow down in the closing months of 2009.
Higher prices likely

This year will be an El Niño year, though a mild one. However, in these years, the catch of Peruvian anchovies, the main raw material for fishmeal production, is normally very low. Expectations of lower output, combined with good demand in China, are pointing towards further price increases in coming months and in early 2010.