Key achievements
In Burundi the strengthening of technical capacities of the farmer field schools in collaboration with service providers (Geographical Institute of Burundi (IGEBU), Institute of Agricultural Sciences of Burundi (ISABU) and the Provincial Directorates of Agriculture and Livestock (DPAE) were focused on following issues: Integrated management of fish ponds (fish farming); Comparative testing of varieties of vegetable seeds; Comparative tests of farm manure and composts; Hydrological Monitoring; tests on the fertility of the soil; conservation agriculture.
Districts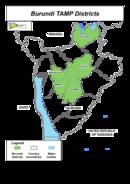 The Kagera basin covers all or part of 11 "Provinces" in Burundi (Bururi, Mwaro, Rutana, Gitega, Muramvya, Karuzi, Kayanza, Ngozi, Muyinga, Cankuzo Kirundo) each of which is subdivided in communes and smaller zones.
Prioritiy areas selected for TAMP actions are the four highland and medium altitude provinces of Muramvya, Mwaro, (NW of Kagera basin) Gitega and Karuzi (centre) because of their important tributaries, the Mubarazi, Mushwabure, Waga, Ruvyironza and Ruvubu rivers; and one lowland province, Kirundo, which shares with Rwanda the cross-border Cohoha, Rweru and Gacamirinda lakes.
SLM specific activities:
Rehabilitation of Gitongo, Higiro, Bucana, Tye, Gihehe et Mirama catchments in Gitega province
Rehabilitation of Sumo, Nyakibari and Sumo microcatchments in Mwaro province
Rehabilitation of Kibogoye and Gikonge in Muramvya province,
Rehabilitation of Rusi and Nyamugari in Karusi province and Rwibikara, Gatete in Kirundo province,
Production of forest, agro-forestry and fruit seedlings, beekeeping, fish farming
Construction of an irrigation micro-dam
Some project results in pictures