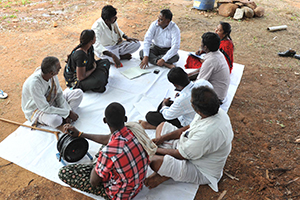 In 2022, around 34 percent of agriculture and pasture lands worldwide were degraded, affecting 3, 2 billion persons negatively and increasing the vulnerability of people who directly depend on land-based goods and services for their basic needs and livelihoods. The 2019 Report of the Science and Policy Interface of the United Nations Convention to Combat Desertification (UNCCD) on the enabling environment to support achieving Land Degradation Neutrality (LDN) demonstrates that governance of tenure, including tenure security, is a key factor for biodiversity conservation, sustainable land management, ecosystem restoration, and other nature and ecosystem based solutions that combat desertification, land degradation and drought (DLDD).
In 2012, the Committee of World Food Security (CFS) hosted the negotiation and adoption by representatives of governments, civil society, academia and private sector of the Voluntary Guidelines on Responsible Governance of Tenure on Land, Fisheries and Forest in the context of National Food Security (VGGT). The VGGT are the only internationally agreed framework to guide policy, strategy and actions to improve governance of tenure.
In 2019, the 14th Conference of Parties (COP) of the UNCCD has acknowledged governance of tenure being a key element of the enabling environment for achieving LDN and "has requested the secretariat and invites the Food and Agriculture Organization of the United Nations and other relevant partners to collaborate to produce a technical guide on how to integrate the Voluntary Guidelines on the Responsible Governance of Tenure of Land, Fisheries and Forests in the Context of National Food Security into the implementation of the Convention and land degradation neutrality" (COP14/ Decision 26).
Read more about the Technical Guide on the Responsible Governance of Tenure and Land Degradation Neutrality >