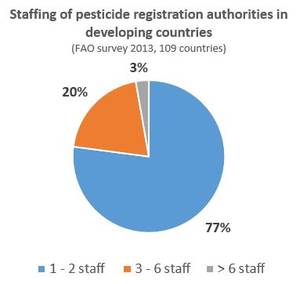 Rationale
Sustainable intensification of agricultural production and sound disease vector management in low and middle income countries require that any pesticides used are effective but pose a low risk to human health and the environment. The proper evaluation of pesticides, before they are registered for use, is an important mechanism to ensure that only appropriate pesticides enter the national market. This is even more so since post-registration awareness building, training, compliance monitoring and enforcement tend to be relatively weak in many low and middle income countries.
However, pesticide registration authorities in many low and middle income countries have limited staff and relatively little experience in pesticide evaluation. This means that copying approaches for pesticide dossier evaluation as applied in countries with more resources is generally not an option.
What is the Pesticide Registration Toolkit?
The FAO Pesticide Registration Toolkit is a decision support system for pesticide registrars in developing countries. It will assist registrars in the evaluation and authorization of pesticides.
The Toolkit can best be considered as a web-based registration handbook intended for day-to-day use by pesticide registrars. The Toolkit is not an automated system for the evaluation of pesticides. It supports and facilitates informed decision-making by registrars, but does not take decisions for registrars.
Registrars can use the Toolkit to support several of their regular tasks, including:
Assessing what data may be required for the evaluation of a specific type of pesticide for a particular use. Data requirements can be selected through a dynamic selection procedure and tailor the specific situation a registrar needs to assess.
Evaluating the technical aspects of the pesticide registration dossier submitted by the applicant, using broadly accepted methods or existing assessments from reputable registration authorities. In addition, standardised evaluation summary forms are available to structure and document these evaluations.
Choosing the appropriate pesticide registration strategy and procedures, depending on available local resources and priorities.
Making decisions on whether to register a pesticide and what risk mitigation measures to apply.
Finding pesticide-specific information, such as registrations in other countries, scientific reviews, hazard classifications, labels, MRLs and pesticide properties.
Assessments at different resource levels
The Pesticide Registration Toolkit provides assessment methods at different levels of complexity. These range from generic methods requiring limited resources, to more locally specific risk and efficacy assessment methods. As a registration authority increases staff resources and builds up technical capacity for pesticide evaluation, the Toolkit will allow increasingly complex but more precise methods to be chosen.
Dynamic process
The FAO Pesticide Registration Toolkit will be adapted and further developed over time. Based on questions and needs of registration authorities, and on advancement of science and policy, new modules and methods will be added to the Toolkit.
The Toolkit team
The Pesticide Registration Toolkit is maintained by the Plant Production and Protection Division of FAO.
The development of the Toolkit is coordinated by Gu Baogen and Beatrice Grenier (FAO), Harold van der Valk (Falconsult, The Netherlands) and Joost Vlaming (Envista Consultancy, The Netherlands). Mark Davis, Harry van der Wulp, Yong Zhen Yang and Jan Breithaupt (FAO, Italy) initiated work on the Toolkit. Deborah Basilici, Desiree Kedjour, Nurit Roded, Giovanna Ortiz, Emanuela Aquilini, Angelo Tomasetti and Giulia Calcagnini (FAO, Italy) provided organizational support. Giorgio Lanzarone, Samrat Maskey, Francesco Costi, Kiran Viparthi, Patricia Graziozi and Claudia Nicolai developed the web pages.
Scientific and technical advice on the contents of the Toolkit was provided by the following working groups:
Residues: Árpád Ambrus (Hungary), Michael Kaethner (Germany), Dave Lunn (New Zealand), Malverne Spencer (Antigua & Barbuda).
Occupational risk assessment: Teresa Rodriguez Altamirano (Nicaragua), Udo Blaschke (Germany), Richard Brown (WHO), Irma R. Makalinao (The Philippines), Sabine Martin (Germany), Tao Chuanjiang (China), Lilian Törnqvist (Sweden).
Pollinators and beneficial arthropods: Breno M. Freitas (Brazil), Connie Hart (Canada), Jean Pierre Jansen (Belgium), Paul Jepson (United States of America), Christian Maus (Germany), Jens Pistorius (Germany), Noa Simon-Delso (Belgium), Thomas Steeger (United States of America), Maurice Barasa Wanyonyi (Kenya), Stephanie Williamson (United Kingdom).
Efficacy: Paul de Boer (The Netherlands), Roma Gwynn (United Kingdom), Dinesh Kumar Nagia (India), Peter Schlotter (Germany), Rajpal Yadav (WHO), Vlasta Zlof (France)
Registration by analogy: Paul van den Brink (The Netherlands), Richard Brown (WHO), Federico Rubino (Italy), Malverne Spencer (Antigua & Barbuda), Michael Studer (Switzerland), Sheila Willis (United Kingdom), Donald Alan Ward (Australia), Yun Zhou, Christine Fuell (Rotterdam Convention, Italy).
Ground- and surface water risk assessment: Paul van den Brink, Mechteld ter Horst (The Netherlands), Ludovic Loiseau (Switzerland), Michael Onwona-Kwakye (Ghana), Marlos De Souza (FAO), Andrea Waichman (Brazil), Lina Wendt-Rasch (Sweden), Dirk F. Young (USA).
Product chemistry: Markus Müller (Switzerland), Olivier Pigeon (Belgium), Ahmed Zouaoui (Morocco), Elaine Lopes Da Silva (Brazil), Jean Philippe Bascou (France), Hansa Chaivanit (Thailand), Chen Tie Chun (China) and Rafael Barbieri (New Zealand)
Soil organisms: Edmundo Barrios (FAO), Lucrezia Caon (FAO), Gregor Ernst (Germany), Eva Kohlschmid (FAO), Cintia Carla Niva (Brazil), Olugbenga John Owojori (Nigeria), Dan Pennock (Canada), Silvia Pieper (Germany), Thomas Poiger (Switzerland), Jörg Römbke (Germany), José Paulo de Sousa (Portugal), Yanming Zhou (China).
The published contents of the Toolkit, however, are the final responsibility of the Toolkit development team.
The Toolkit trainers
FAO has established a team of "Toolkit trainers" who are based in different regions of the world. These experts in pesticide registration and management have extensively worked with the Pesticide Registration Toolkit and are qualified to conduct training workshops on the Toolkit. Together with the coordinating team at FAO HQ, the can help organize both national and regional workshops which provide a general introduction to the Toolkit or focus on more specific technical topics regarding pesticide registration. Toolkit workshops can be conducted in English, Spanish and French.
Presently, the team of trainers consists of:
Khalid CASSAM, Arturo CORREA BRIONES, Seynabou DIAGNE, Lifang DUAN, Béatrice GRENIER, Guy MATHURIN, Esau MIRANDA VARGAS, Richard OUEDRAOGO, Sylvain OUEDRAOGO, Jenny RÖNNGREN, Alicia DE LA ROSA BRACHOWICZ, Ivy SAUNYAMA, Mohamed El Hady SIDATT, Malverne SPENCER, Carla Helena MARQUES TAVARES, Gero VAAGT, Joost VLAMING, Harold VAN DER VALK and Donald WARD.
Funding
The Pesticide Registration Toolkit is being developed with financial support from The European Union, the OECD and FAO.