WAW program and country projects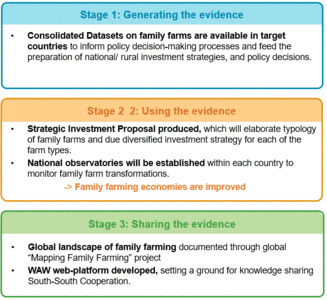 How does the WAW solution work at national level?
WAW is an integrated solution that aims to transform current agricultural information methods into an inclusive, coordinated and comprehensive system that will better support smallholder family farmers and their organizations. To this end, WAW will provide participating countries with three main outputs:
consolidated farm data,
investment strategies, and
national observatories.
The solution will be delivered in three stages: (1) generating the information; (2) applying the information and (3) sharing the information.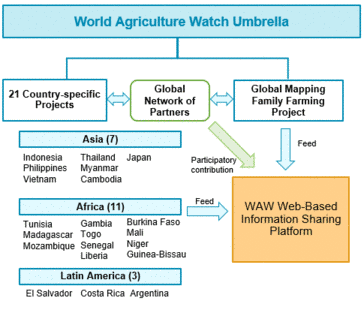 Stage 1
In the first stage (generating the information), WAW will compile consolidated datasets on family farms. First, country teams will conduct a review of existing information at farm and household level to see what data are available and where any gaps might be. They will then conduct field surveys to gather any information that is missing. WAW will then consolidate the data using existing information systems.
Stage 2
In the second stage (applying the information), the WAW country teams will produce strategic investment proposals, pinpointing the most vulnerable farms and the kind of investment or policy they need. These proposals can be used by government development agencies in their investment and policy decision-making processes. WAW country teams will then set up national observatories, so that countries can sustainably manage their family farm data and monitor agricultural transformation. Here, countries can engage in two ways: they can establish a national-level monitoring station in a governmental institution or opt for a solution that is a step removed, which operates through family farmer organizations.
Stage 3
In the third stage (sharing the information), WAW will collate the information amassed and document the global landscape of family farming. It will share the information collected using the WAW knowledge-sharing platform, which will act as participatory data-sourcing hub for farmer organizations and public institutions, as well as a focal point for knowledge sharing and South‒South cooperation.
South–South Cooperation
WAW will host at least 21 country-specific projects in Asia, Africa and Latin America, in addition to a global project to map the landscape of family farming around the world.
Six pilot-phase countries (El Salvador, Niger, Madagascar, Senegal, Tunisia and Vietnam) are already in the process of scaling up operations. Most of them are setting up observatories in certain areas and some have expressed interest in doing the same in other regions. Our pilot partners will share their experience and know-how with neighbouring countries, particularly in relation to establishing national observatories, in a prime example of South–South cooperation in action.