Agriculture is undergoing rapid transformation and this may affect its ability to respond to global challenges. Climate change, land and environmental degradation, food insecurity, watery scarcity and persistent poverty are threatening agricultural productivity. Agricultural systems must, therefore, adapt. Family farms have already proved to be competitive and sustainable when the conditions are right, but they need tailored investment policies and solutions if they are to flourish. World Agriculture Watch (WAW) works with country partners to bridge knowledge gaps with a view to better informing policy design, particularly in relation to family farmers.
Meetings / Workshops / Events
14-18 October 2019 WAW Secretariat proposed to co-organize a side-event during the upcoming CFS (Committee on World Food Security) together with ILC and the Ministry of Agriculture of Brazil. The topic will be "What data supports family farming?" and it is expected to shed light on the ongoing discussion about how data and information systems can help empower family farmers, target investments and public policies and contribute to the UNDFF goals.
May 2019 the international conference was held in FAO HQ for the official launch of the UN Decade of Family Farming. Tunisian partner of WAW presented its experience from the pilot phase.
25-29 March 2019 WAW Secretariat attended and actively participated to the meeting in Bilbao organized by World Rural Forum for the preparation of the launching of the UN decade of Family farming. The agenda of the Decade was discussed during the meeting.
Recent Publications
Author / Source:
Year: 2019
There are more than 85% of the world's farms are smaller than 2 hectares and...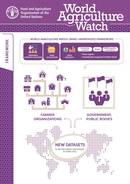 Author / Source:
Year: 2019
World Agriculture Watch (WAW) offers a comprehensive approach and tools to examine, analyse and monitor...