Why a World Pulses Day?
Building on the success of the International Year of Pulses (IYP) in 2016 implemented by FAO and recognizing the potential of pulses to further achieve the 2030 Agenda for Sustainable Development, the United Nations General Assembly (UNGA) designated 10 February as World Pulses Day (WPD).
This celebration presents a unique opportunity to raise public awareness about pulses and the fundamental role they play in the transformation to MORE efficient, inclusive, resilient and sustainable agrifood systems for better production, better nutrition, a better environment, and a better life, leaving no one behind.
With the help of governments, the private sector, Members and partner organizations, the public and youth, FAO works to facilitate the observance of this international day and support the production and consumption of pulses as part of sustainable food systems and healthy diets.
Pulses are nutrient-dense, providing a good source of vitamins and minerals that are vital for good health.
Pulses have a long shelf-life and help to increase the diversity of diets, while reducing food loss and waste.
Pulses in multiple cropping systems enhance agro-biodiversity, climate change resilience and ecosystem services.
Pulses fix atmospheric nitrogen into the soil, contributing to improving soil biodiversity and fertility.
Including pulses in crop rotations can improve chemical fertilizer use efficiency.
Pulses provide employment and entrepreneurial opportunities for rural women and youth.
Pulses for a sustainable future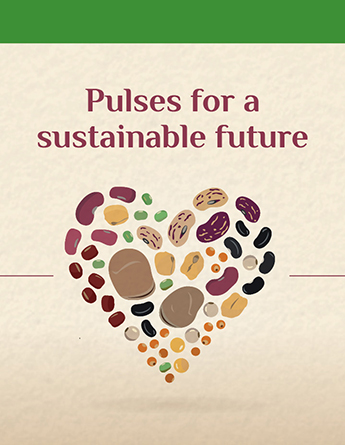 VIRTUAL EVENT
10 February 2023, 14:00–15:30 CET
Register | Agenda | Webcast
Pulses contribute to increasing the resilience of farming systems and providing a Better Life for farmers in water scarce environments, as they have a low water footprint and can better tolerate drought and climate-related disasters compared with other food crops, making them an essential tool to adapt and mitigate climate change. Including pulses in various farming systems (e.g. agroforestry, intercropping and integrated farming systems) can help to increase the resilience of agriculture livelihoods and improve productivity.
Furthermore, on the economic side, the global pulses industry, dealing with pulses production and trade, proves to be a positive driver in ensuring the resilience of regional and global supply chains, enabling consumers to access nutritious foods and contributing to the sustainable use of natural resources.
Based on the benefits that pulses provide to agrifood systems and the environment, the Steering Committee selected "Pulses for a sustainable future" as the theme for the 2023 celebration.
Pulses are not just for adults…