Check the full list of the FAO's Global Soil Partnership publications
here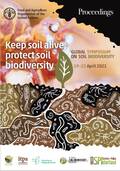 The proceedings book of the GSOBI21 contains all papers presented both orally and in poster format during the symposium. The papers have provided sufficient scientific evidence that the loss of soil biodiversity is a global threat, and shows the place we are standing on and where we need to go to prevent soil biodiversity loss and to reinforce knowledge about soil biodiversity.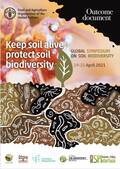 The Global Symposium on Soil Biodiversity outcome document highlights scientific evidence on the status of soil biodiversity, its impacts, and an agenda for action in the framework of achieving the SDGs. The recommendations presented in this document aim to support the development of policies and actions to encourage the full use of soil biodiversity in the various land-use sectors. The Global Symposium on Soil Biodiversity was held virtually on the FAO zoom platform from 19-22 April 2021. It was attended by over 5 000 participants representing more than 160 countries, including representatives of FAO members, organizing institutions, academia, research institutions, the private sector, civil society, and farmers.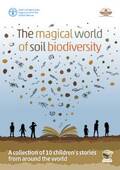 In the framework of World Soil Day 2020, FAO, the International Union of Soil Sciences (IUSS), and the Global Soil Partnership (GSP) launched a children's book contest on Soil Biodiversity with the motto "Keep soil alive, protect soil biodiversity". The soil biodiversity book highlights the importance of soil organisms and raises awareness of the urgent need to protect soil biodiversity among a young audience (children aged 6-11 years). This collection of 10 stories includes the best entries received from a total of 80 books spanning over 60 countries.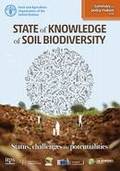 This summary for policy makers presents the key findings of the main report "State of knowledge of soil biodiversity - Status, challenges and potentialities. The document presents concisely the state of knowledge on soil biodiversity, the threats to it and the solutions that soil biodiversity can provide to problems in different fields.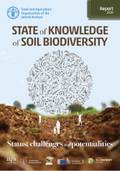 There is increasing attention to the importance of biodiversity for food security and nutrition, especially above-ground biodiversity such as plants and animals. However, less attention is being paid to the biodiversity beneath our feet, soil biodiversity, which drives many processes that produce food or purify soil and water. This global report is the result of an inclusive process involving more than 300 scientists from around the world under the auspices of the FAO's Global Soil Partnership and its Intergovernmental Technical Panel on Soils, the Convention on Biological Diversity, the Global Soil Biodiversity Initiative and the European Commission.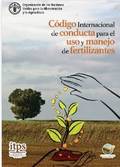 Código Internacional de Conducta para el Uso y Manejo de Fertilizantes
Código para Fertilizantes se elaboró para aumentar la inocuidad alimentaria y el uso seguro de los fertilizantes. El Código de Fertilizantes tiene por objeto abordar cuestiones de importancia mundial, contribuyendo así a la consecución de algunos de los Objetivos de Desarrollo Sostenible (SGD).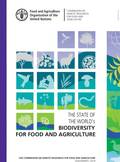 Based on information provided by 91 countries and 27 international organizations, analysis of global literature and datasets, and contributions from over 175 authors and reviewers, the State of the World's Biodiversity for Food and Agriculture assesses biodiversity for food and agriculture and its management worldwide.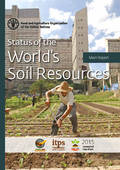 Main report
The SWSR is a reference document on the status of global soil resources that provides regional assessments of soil change. The information is based on peer-reviewed scientific literature, complemented with expert knowledge and project outputs. It provides a description and a ranking of ten major soil threats that endanger ecosystem functions, goods and services globally and in each region separately.
Las Directrices fueron adoptadas en la cuarta reunión de la asamblea Plenaria de la AMS (Roma, 25 de mayo de 2016), aprobadas en el 25º período de sesiones del Comité de Agricultura de la FAO (Roma, 28 de septiembre de 2016) y, por último, refrendadas en el 155º período de sesiones del Consejo de la FAO (Roma, 5 de diciembre de 2016).
Las Directrices voluntarias para la gestión sostenible de los suelos (las Directrices voluntarias) se elaboraron a través de un proceso incluyente en el marco de la Alianza mundial sobre los suelos (AMS). Pretenden ser un documento de referencia al formular recomendaciones en materia de políticas técnicas y generales sobre la gestión sostenible de los suelos (GSS) para una amplia gama de partes interesadas comprometidas.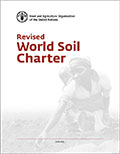 Carta Mundial de los Suelos Revisada
Los suelos saludables son un requisito previo básico para satisfacer las diversas necesidades de alimentos, biomasa (energía), fibra, forraje y otros productos, y para garantizar la prestación de los servicios ecosistémicos esenciales en todas las regiones del mundo. Sin embargo, la humanidad se enfrenta a presiones sin precedentes sobre el recurso suelo. En particular, diversos tipos de degradación -incluyendo el sellado debido a la rápida urbanización- está haciendo pagar un elevado peaje, amenazando la seguridad alimentaria y el equilibrio ecológico.