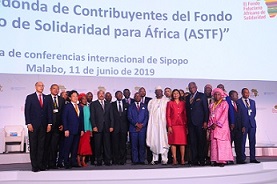 Working to fulfil its mandate and help countries achieve the Sustainable Development Goals, FAO is funded in part by its regular budget and increasingly through voluntary contributions. Those extra-budgetary contributions come from FAO Member Countries, multilateral organizations, international financing institutions, the private sector and other sources.
Globally and in the Africa region, voluntary contributions constitute the primary source of funding – accounting for nearly two-thirds of total funding. Voluntary Contributions from FAO's resource partners may be earmarked for a particular thematic area, region or programme, or may come as non-earmarked contributions to be applied wherever the need is greatest.
Between 2014-2019, 74 resource partners provided voluntary contributions to FAO's work in Africa region. In 2019, voluntary contributions from resource partners totaled US$ 424 million across 196 projects. The top ten resource partners provided more than 80% of this total amount.
The Africa Solidarity Trust Fund
The Africa Solidarity Trust Fund (ASTF) is an innovative Africa-led fund to support African development initiatives. Its main goal is to strengthen food security across the continent by assisting countries and regional organizations to eradicate hunger and malnutrition, eliminate rural poverty and manage natural resources in a sustainable many. The fund was initially constituted in 2013 thanks to generous support from the governments of Angola and Equatorial Guinea. To learn more click here