Unit 1: Working for #ZeroHunger
Fighting hunger in five steps
Despite being capable of feeding each and every one of its inhabitants, over 800 million – 1 in every 9 people on our planet – wake up every day knowing that they will not have anything, or almost anything to eat. In wealthy countries too, many kids go to school on an empty stomach, or only eat junk food, which is low-cost but lacking in nutritional substances. However, even more people are overweight. In some parts of the world more people die from obesity than homicide. This means that malnutrition is a global problem.
FAO has developed five objectives to reduce the number of undernourished people from over 800 million to ZERO and improve nutrition.
Previous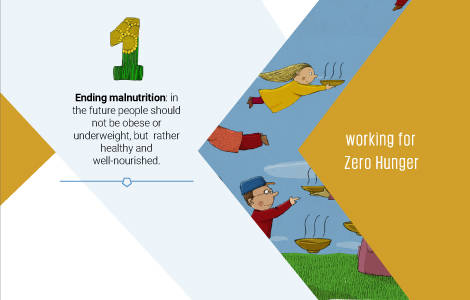 1-EN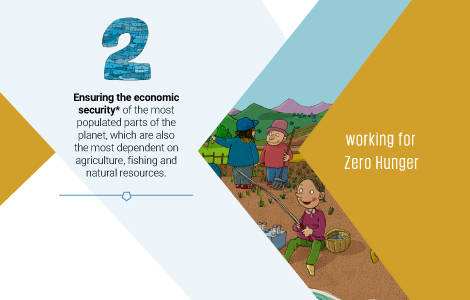 2-EN
3-EN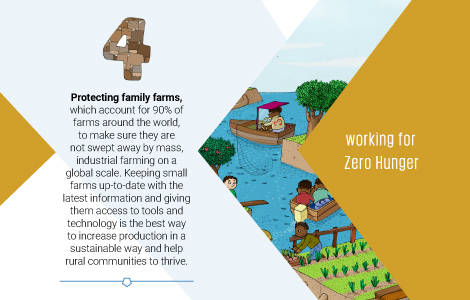 4-EN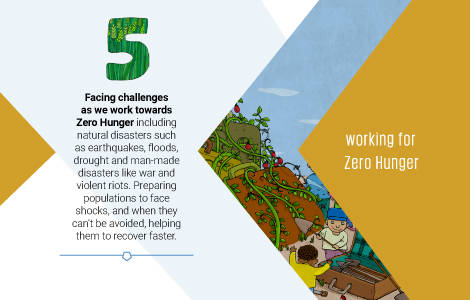 5-EN

A perfect plan

Getting countries with different cultures to agree on an issue such as food may really seem like mission impossible.
How can we put FAO's five steps into practice? FAO's answer can be summed up in three key words: knowledge, sharing, action. FAO's staff is composed of agronomists, specialists in forestry, fishery and animal resources, nutritionists, sociologists, anthropologists, scientists, and information management, legal, communication and statistical experts.
All of these people, men and women, contribute to collecting an enormous quantity of data and information on food, agriculture and natural resources, climate change and more, sharing them as much as possible.
Knowledge sharing is indeed a crucial element for FAO strategies. The flame of knowledge, in fact, does not die down with the participation of many, rather, it grows and grows casting an enormous light on the world. It is for this reason that FAO puts those holding 'the flame' in touch with those who need to light their candles: farmers, but also governments, companies and institutions that somehow influence the production of food in the present and future, including children and young people – the adults of tomorrow.
Fall Armyworm (FAW) is a ruthless pest which feeds on more than 80 different crop species, and when it arrived in Africa from the Americas, farmers panicked. It was new to their continent and they didn't know what to do to save their crops! They were tempted to overuse chemical pesticides that can be hazardous to human health, but FAO stepped in immediately, provided the technical and practical advice they needed, developed a special App for farmers and helped South America and Africa to exchange important information. Knowledge can save crops and lives!
The support that FAO offers member states to develop action plans is necessary to transform data and information into concrete change.
Not only do FAO school feeding programmes improve nutrition, they also show students how to grow fruit and vegetables in inexpensive ways, and encourage them to try out their newfound skills at home. The greater community also benefits from the programmes as other food ingredients are sourced from local farmers. In this way, the children eat healthily, and the local economy grows.
Working with FAO and local organizations empowers young people to imagine and start building their own future! Taking action means making the most of personal and environmental resources but in a sustainable way, with people as the change-makers and governments and local authorities encouraged to recognize their respective responsibilities.
Mediating to win
Governments and political leaders, representatives from private companies, farmers and common citizens need a mediator to aid communication and understanding between the various parties. Different interests, diverging cultures and politics can compromise dialogue in the absence of a neutral organization such as FAO. FAO brings together the people or bodies that can share their resources or information with those who need them, defending the rights of the most vulnerable people in society by encouraging governments and institutions to introduce fairer policies.
Take FAW, for example, and how FAO is helping Africa to communicate with the right people in Latin America, so they can learn how to manage this new pest. FAO has a delicate role to play because the projects which can guarantee a future without hunger depend on helping all stakeholders involved to reach agreement.

SDGs
The 17 SDGs are what the world needs to become a happy and safe place for everyone: the Sustainable Development Goals of the United Nations. Zero Hunger is therefore in pretty good company, standing next to innovation, peace, justice, clean energy and health, just to mention a few. UN member states officially pledged to do as much as possible to ensure that all 17 are reached by 2030. An impossible challenge? Not at all, but it depends on each and every one of us.