Global Symposium on Sustainable Fall Armyworm Management, Beijing, China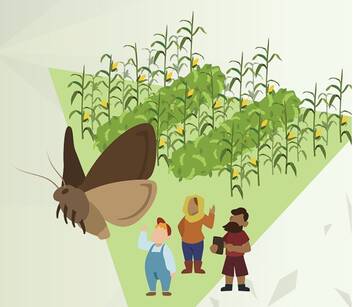 Charting a global response to future invasive pests
In concluding the Global Action (GA) on Fall Armyworm (Spodoptera frugiperda, FAW) control in 2023, FAO's Plant Production and Protection Division (NSP) proposes to organize a Global Symposium on Sustainable FAW Management (GS-FAW) in Beijing, China, from 31 October to 2 November 2023. The theme of the Symposium is "Charting a global response to future invasive pests". The purpose of the Symposium is to facilitate worldwide dissemination of results and lessons learnt to improve the global response against FAW and other invasive plant pests and diseases. The Symposium will be held in China, one of the demonstration countries showing a clear impact during the GA implementation. This Symposium will be hosted by the Chinese Academy of Agricultural Sciences (CAAS), and the National Agro-Teach Extension and Service Centre (NATESC) of the Ministry of Agriculture and Rural Affairs (MARA). The event will be co-organized between FAO and the two agencies above.
Logistical notes and information for travelers to Beijing, China
for the Global Symposium on FAW Control
Hotel: Empark Grand Hotel (世纪金源大饭店)
Address: No.69 Banjing Road, Haidian District, Beijing.
https://grand.empark.com.cn/fandian/#/
Link to information related to COVID-19 (e.g. vaccination required)
Not applicable.
Explanation about transport from the airport to the hotel:
Student volunteers will wait at the airport exit and take the guests to the taxi services. Then the guests can take a taxi to the hotel by themselves. There is a need to prepare some RMB cash for the payment.
From Beijing Capital International Airport it is about 40 km to the hotel at the cost of approximately 140 RMB.
From Beijing Daxing International Airport is about 70 km, at the cost of approximately 220 RMB.
In the area – what to see nearby:
The hotel is located about 6 km from the Summer Palace, 9 km to Tiananmen Square, 5 km to Purple Bamboo Park, 1.2 km to The Jinyuan Shopping Center, 5 km to Zhong Guan Cun Science Park (Z-Park).
About Beijing:
Being the capital of the People's Republic of China and municipality, Bejing is located in Northern China. It's population is 21 million. Beijing is a global city and one of the world's leading centres for culture, diplomacy, politics, finance, business and economics, education, research, language, tourism, media, sport, science and technology and transportation.
Weather: Beijing has a monsoon-influenced humid continental climate. Beijing gets cooler in October, and it is dry, with the average low and high temperatures 7 °C (45 °F) and 19 °C (66 °F).