Mortality During Grow Out
Problems related to handling fish, water quality, algal blooms, temperature changes, parasite infections, extreme weather events, disease or parasite treatments and feed quality can all lead to stress, disease, and ultimately the death of fish before harvesting.
According to FAO publication The State of World Fisheries and Aquaculture, too often, a long-time elapses from the in the field to the identification and reporting of the causative agent and the application of appropriate control and risk management measures. A paradigm shift is needed in dealing with aquaculture biosecurity risks.
Key causes of food loss and waste (FLW) associated with the mortality during grow out include:
temperature change

extreme weather events

fish escapes

diseases and parasites

misuse of chemicals or treatments for disease and parasites

poor handling

algal blooms

predators (birds, seals, lizards, jellyfish)

poor water quality

oxygen shortages
Diseases and Pathogens
Diseases and Pathogens
Disease is an inevitable part of aquaculture production. Some pathogens are always present in farmed stock and only cause disease when the right conditions occur – such as when animals are stressed or when environmental conditions are suitable. The impact of these pathogens can be managed with good hygiene and husbandry practices. Other pathogens can be very damaging even under ideal husbandry conditions – these should be excluded from your farm wherever possible.
According to FAO publication The State of World Fisheries and Aquaculture, constraints in dealing with aquaculture diseases include:
limitations in diagnostic techniques

the existence of cryptic pathogens and benign organisms that may become pathogenic when introduced to new hosts and new environments

limitations in control options for aquatic animal diseases

the occurrence of multifactorial disease syndromes and frequent subclinical infections

the undomesticated status of most farmed aquatic species

the paucity of information on the health status of aquatic animals
Country Level Examples
Country Level Examples
In Norway, 15-20 per cent of the number of salmon and trout in sea farming have been lost. In terms of weight, this corresponds to 6-9 per cent. Fish mortality and other losses in production are important for how efficiently resources are used and for the economy in the industry. The losses in production relate to fish death in cages, fish escapes, and some can disappear in other ways. Fish that die in cages constitute the largest loss in production.
In Scottish aquaculture, the most commonly reported causes of death were diseases. Other frequent killers were "treatment losses" from misusing chemicals or de-licing machines, "handling" errors, algal blooms, jellyfish, seals, "poor water quality" and oxygen shortages.
Key Publications
The need to address serious welfare problems due to intensive fish farming are reviewed and discussed.

The State of World Fisheries and Aquaculture 2018

A global description and current insights into the critical importance of fisheries and aquaculture in terms of food, trade, the environment and livelihoods.
More Resources
More Resources

One of the major issues prevailing in the fisheries and aquaculture industry in Sri Lanka is the high loss and waste of fish, and it has become necessary to introduce strategies aimed at preventing and...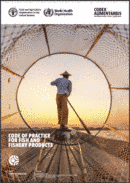 The Codex Alimentarius, "the food code", has a fundamental role in protecting consumers and ensuring fair practices in food trade, and provides technical guidance on the activities related to fish and fishery products.

Summary of remote sensing technique that may eventually lead to a real-time monitoring system to help maintain the vital economic and ecological resources of the Red Sea.