Skills and Knowledge for Processing Plants
Some of the key knowledge and skills required in order to prevent and reduce food loss and waste (FLW) include:
By-product/waste handling
Chilling and chilled storage
Freezing and frozen storage
Packaging
Labelling
Regulatory requirements for animal by products, food waste disposal
Temperature monitoring
Good hygienic practice
By-product utilization
More Resources
More Resources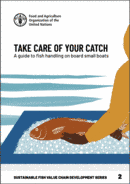 What happens to fish after it is caught has a big impact on its quality. This guide is for fishers, vessel owners, extension services, and anyone interested in how to maintain fish quality.

In order to support long-term capacity building for women, the SSF Umbrella Programme conducted a review to identify successfully adopted post-harvest best practices that should be disseminated more widely to help reduce fish loss and...
Fish is a highly perishable food that begins to spoil as soon as it is caught, and therefore, particular care is required during harvesting and all along the supply chain in order to preserve nutritional...