Over 4 000 participants tune in to free online courses on aquaculture techniques
24/04/2020
More than 4000 people participated in the ADC online initative: free online courses on techniques and technologies in aquaculture. 
These courses are developed in close collaboration with the GFCM Aquaculture Demonstrative Centres (ADC) in Turkey and Romania. 
ADCs fulfill three main objectives:
1. To research and develop new aquaculture techniques and technologies
2. To showcase best practices in aquaculture
3. To train specialists from local and national administrations, academia and the private sector
As their activities are now on hold due to COVID-19, the experts accepted to bring their knowledge directly to your homes. In order to make this technically possible, the GFCM Secretariat has been working to extend its Extranet with teleconferencing systems and streaming services that attendees will be able to access via web browser to follow this initiative.
ADC Online held a first week of courses on shellfish environment and pathologies, organized with the National Institute of Constanta,  a second week on turbot aquaculture and restocking, organized with experts from the SUMAE Institute in Trabzon, and a third week of courses on recirculating aquaculutre systems, organized with the SUMAE Institute.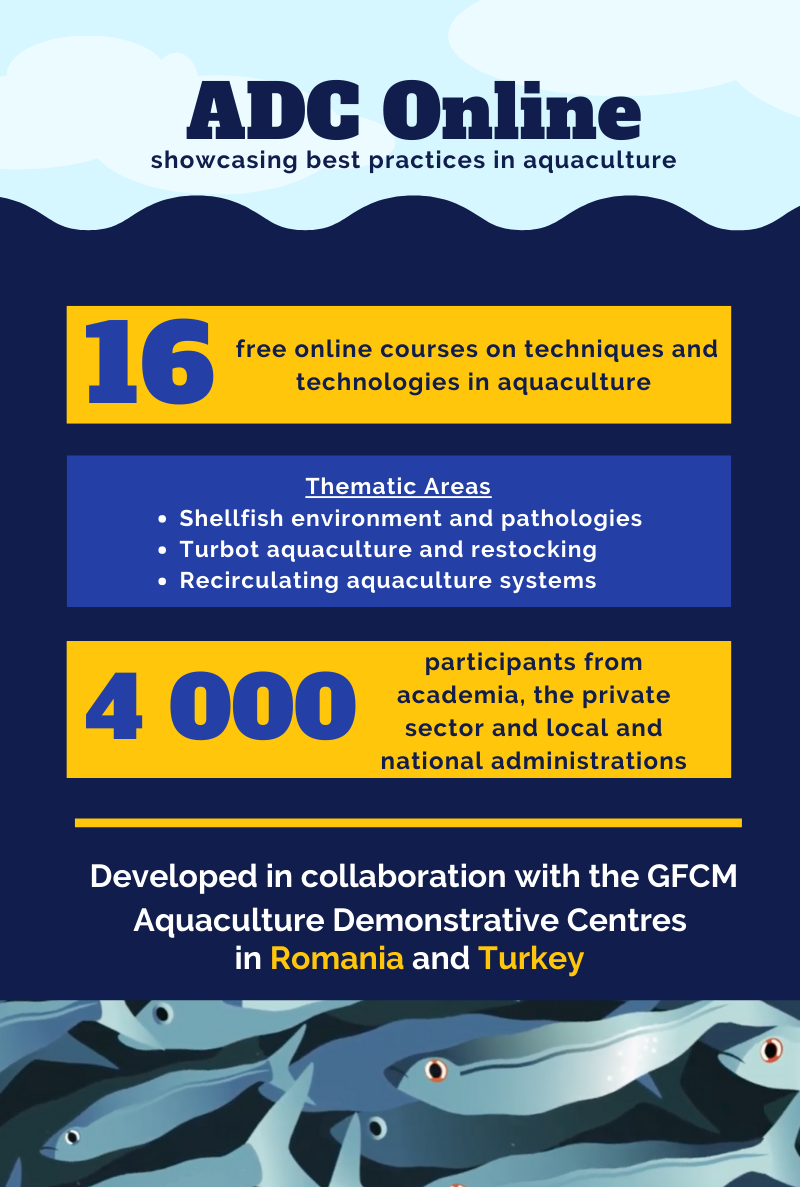 Agenda of the ADC online courses
Date & time (GMT+2)
Title of the presentation
Expert
Shellfish environment and pathologies

April 13, 9.30 

DEMONSTRATIVE CENTRE FOR SHELLFISH AQUACULTURE IN THE BLACK SEA
Victor Niţă

April 13, 10.00

BASIC BIVALVE BIOLOGY IN RELATION WITH PATHOLOGY
Valeria Abaza

April 14, 9.00

PATHOLOGY OF SHELLFISH AND IMPACT ON MUSSEL QUALITY
Daniela Roşioru

April 15, 9.00

PHYTOPLANKTON COMMUNITIES AND ALGAL BLOOMS IN THE ROMANIAN BLACK SEA WATERS
Oana Vlas

April 16, 9.00

BLACK SEA AQUACULTURE IN MARITIME SPATIAL PLANNING
Simion Nicolaev
Turbot aquaculture and restocking
April 20, 15.00

April 21, 10.00

April 22, 10.00
April 23, 10.00
April 24, 10.00

Recirculating Aquaculture Systems 

April 27, 15:00
RECIRCULATING AQUACULTURE SYSTEMS: AN OVERVIEW
Ilhan Aydin*
 28 April, 10.00
SPECIES OF RAS 
 29 April, 10.00
CONSTITUTION & COMPONENTS OF RAS
 Ekrem Cem Çankırılıgil
 29 April, 10.30
SUITABLE DESIGN AND BUSINESS FORECAST FOR NEW FACILITIES 
 Muhammed Doğan Özdemi
 30 April, 10.00
FEEDING TECHNIQUES ON RAS
Osman Tolga Özel 
01 May, 10.00 
RISK MANAGEMENT IN RAS
 Bilal Akbulut
      *Introduction by Mr Abdellah Srour, GFCM Executive Secretary
The recordings of each course are available in the table above or here. 
A huge thanks to all the experts for accepting to take part in this initiative!