Aquaculture can play a greater role in fighting hunger and malnutrition: how the GFCM is helping Lebanon, Syria and Palestine boost fish farming
06/04/2022
Something new is sweeping across Lebanon, Syria and Palestine. 
With support from the General Fisheries Commission of the Mediterranean (GFCM) of the Food and Agriculture Organization of the United Nations (FAO), Lebanon, Syria and Palestine have embarked on boosting their fish farming.
The benefits of aquaculture can be priceless: greater food security and nutrition, stronger local economies, and more jobs. More so as the region is recovering from the brunt of the COVID-19 crisis and battling with food insecurity; Lebanon is facing dire economic conditions; and Syria is rebuilding its agriculture after years of conflict.  
But to develop a stronger, more sustainable aquaculture sector, there is a need first to understand its challenges and opportunities, and tailor their response accordingly. Moreover, whilst the region has a rich history in fishing, fish farming is relatively new or hasn't reached its full potential yet.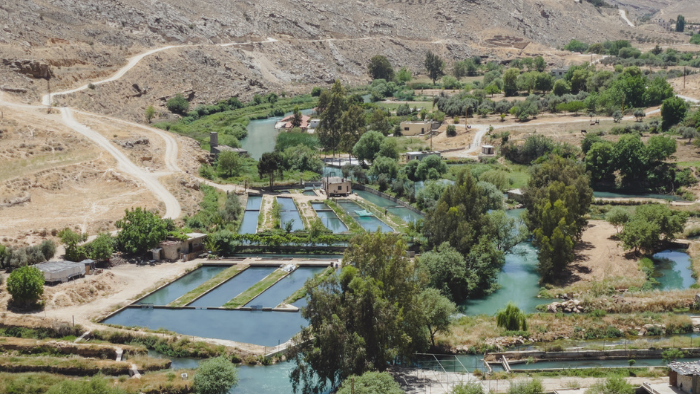 View from above: a fish farm in Lebanon ©GFCM//Ralph Azar
In response, the GFCM has been supporting the aquaculture sector in various ways, including by carrying out surveys to take full stock of fish farms in Lebanon, Syria and Palestine. 
In Syria, a national survey has just been launched. It will gather information on the size of fish farms, the species reared, and how farmers rear and sell their fish. This information will then be analysed to paint a full picture of the state of aquaculture in Syria, and help make recommendations so that the sector can grow and be managed more sustainably.  
"I'm rearing carps and cat fish on my farm. This also provides jobs for two refugee families. We need to develop the sector to produce low-cost protein that is within everyone's reach. We need more fingerlings and feeds to increase our production," said Hamza, a fish farmer who spoke to GFCM aquaculture staff during their recent visit to Lattakia, a region nestled on Syria's Mediterranean coastline.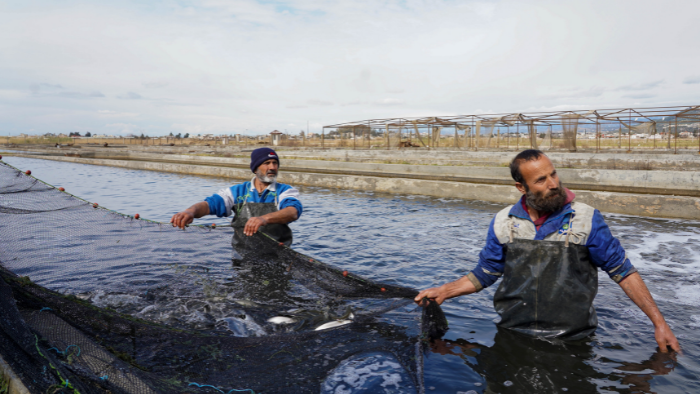 Fish farmers at work in Lattakia, Syria ©GFCM/Galatea Media
"Aquaculture can be a solution to secure people with a rich source of protein. To achieve this, we are carrying out research to improve the sector's production efficiency; encouraging farmers to invest in aquaculture; and equipping smallholder farmers with the tools and knowledge they need," said Abdul-latif Ali, Director General of the General Authority for Fisheries and Aquatic Biology in Syria. 
 In Palestine, an aquaculture survey was launched at the beginning of March, with results expected in mid 2022. 
"Aquaculture is a strategic sector for Palestine as it provides a lifeline for many people who depend on fish for high-quality protein," said Yaser Sthaya, Deputy General Director of Fisheries and Marine Environment Ministry of Agriculture in Palestine.  
The GFCM is working closely with the Ministry to carry out the national survey.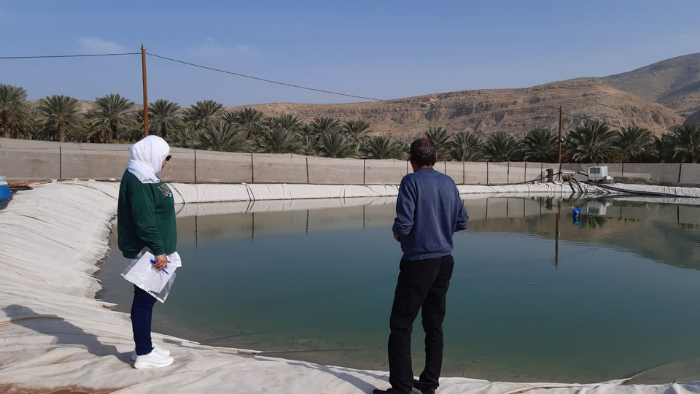 Staff from Palestine's Fisheries and Marine Environment Ministry of Agriculture talking to a fish farmer for the survey. ©GFCM 
In Lebanon, an extensive survey across the country is just being finalized. Some 350 farms were surveyed, with data showing that about 3 700 tonnes of trout fish are being produced every year, and some farms are experimenting with rearing tilapia, carp and shrimp. 
"The aquaculture sector can offer countless opportunities to the people of Lebanon. It can significantly contribute to boosting food security and nutrition, and helping to stem the tide of migration from rural areas by creating new job opportunities," said Ibrahim Haoui, Advisor to Lebanon's Minister of Agriculture.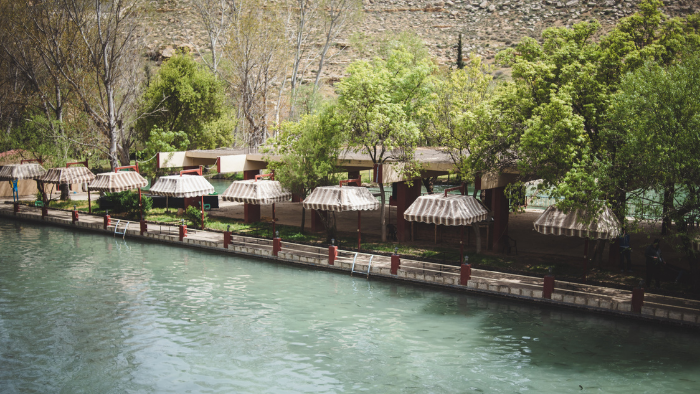 A fish farm full of trout in Lebanon ©GFCM/Ralph Azar 
The GFCM's work is crucial for the sustainability of aquaculture in the Mediterranean and the Black Sea and for the livelihoods of countless people who depend on it. 
"More and more countries are coming onboard and are committed to boosting their aquaculture sector. We are excited to see that there is growing recognition that aquaculture can play a greater role in fighting hunger and malnutrition, and help people in the region – many of them vulnerable – secure a better future for their families and communities," said Houssam Hamza, GFCM Aquaculture Officer who has just returned from a visit to Syria and Lebanon.   
The GFCM's work is possible thanks to partners such as the European Union who is a staunch supporter of the aquaculture sector, considering it of strategic importance to food security and nutrition in the region.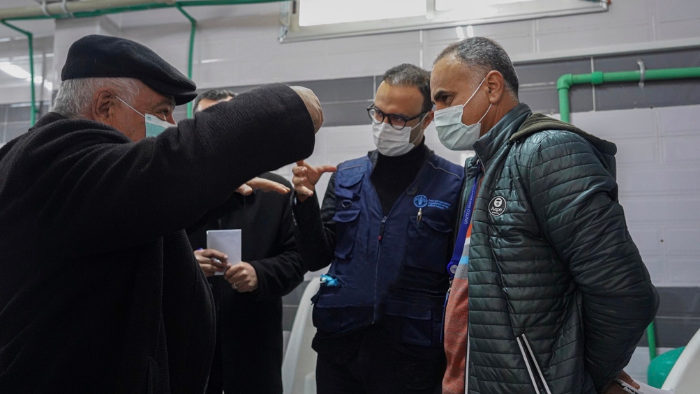 Houssam Hamza, GFCM Aquaculture Officer (second right) talking with fish farmers and staff from Syria's Ministry of Agriculture ©GFCM/Galatea Media