Turning sea urchins into premium seafood: a win for Mediterranean aquaculture farmers, fishers and marine ecosystems
22/04/2022
Q&A with Georgios Paximadis, Aquaculture Expert at the General Fisheries Commission for the Mediterranean (GFCM) of the Food and Agriculture Organization of the United Nations (FAO) on how enhancing sea urchin roe can boost food security and livelihoods whilst preserving precious marine habitats in the Mediterranean region.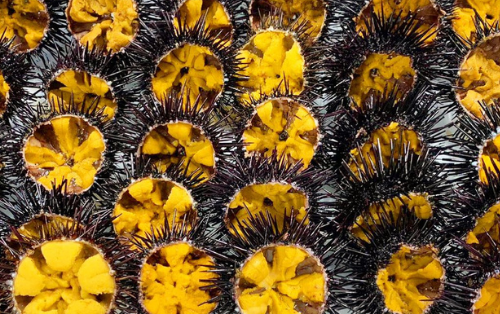 Sea urchins with enhanced roes. ©Urchinomics
What should we know about sea urchins in the Mediterranean?
The purple sea urchin, Paracentrotus lividus, and the black sea urchin, Arbacia lixula, are the most common species of urchins in the Mediterranean Sea. They live in shallow waters and often share habitats. The Paracentrotus is an edible species and harvested for their roe (the edible part of sea urchins and a common name for gonad, an organ responsible for reproduction), whereas the Arbacia is not, due to its smaller roe and taste.
Sea urchins are considered a delicacy in some areas of the Mediterranean, mostly on its northern coasts. Besides its unique taste, the roe is a good source of high-quality protein, omega-3 and micronutrients, and is low in saturated fats.
Sea urchins are important for keeping marine ecosystems healthy.
Sea urchins up close in the Mediterranean. ©GFCM/Georgios Paximadis 
However, the overall status of the sea urchin populations in the Mediterranean is of concern. As a precaution, pending formal stock assessments, sea urchins should be considered in need of conservation due to the impacts of fisheries and climate change among others.
Nevertheless, their numbers, spread and impacts are different around the region depending on local conditions and harvesting. In Sardinia, for example, sea urchin populations are sparse and subject to heavy overfishing. In other areas, owing to the overexploitation of their predators, climate change and pollution, sea urchin populations are on the rise. This leads to an overgrazing of macroalgal forests and seagrass meadows turning these productive ecosystem into lifeless, desert-like "urchin barrens".
What is the GFCM doing in relation to sea urchins? 
The GFCM is working with the Centre for Advanced Studies of Blanes (CEAB) of the Spanish National Research Council (CSIC) and Urchinomics to enhance the roe of sea urchins in the Mediterranean. This pilot project is being conducted by the CEAB in collaboration with Catalan fishers and administration and focuses on the unique potential of enhancing Paracentrotus lividus. The roe is enhanced at the CEAB lab in Blanes by using a formulated feed by Urchinomics, and it benefits both from the know-how of Urchinomics and the technical support of the GFCM.
Let me give you some more context. Once sea urchin populations increase due to the absence of predators, they destroy their habitats. The urchins then starve and their roe gets smaller, losing their commercial value . They become valueless for fishers to harvest, and for predatory species to eat. And by occupying the ocean floor, they also prevent kelp forests and sea grass meadows from recovering.
By removing these urchins, enhancing their roe and turning them into premium seafood, not only do we create a new seafood delicacy, but we can also help restore kelp forests and seagrass meadows, which are critical ecosystems in the Mediterranean. In addition, in areas where urchins have been overfished, roe enhancement provides an alternative for meeting market demand.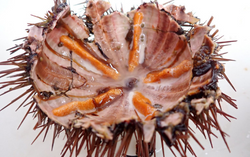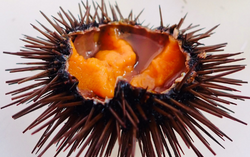 Before and after. What a sea urchin looks like after 8 weeks of roe enhancement at the CEAB lab in Blanes. ©GFCM/Georgios Paximadis
This is why this project is so important.
It is the first-ever project of its kind in the Mediterranean region, exploring the prospects of urchin roe enhancement as an aquaculture nature-based solution towards the achievement of the Sustainable Development Goals (SDGs). It aims to improve the health of the Mediterranean marine forests by controlling urchin overgrazing where necessary; and to contribute to food security and coastal livelihoods, providing more nutritious food and income.
To find out more, I invite you to follow the Barcelona Seafood Expo Global on 26 April 2022, an event organized by the Ministry of Climate Action, Food and Rural Agenda, Government of Catalonia, and the GFCM, where the project will be introduced.
What does sea urchin enhancing entail? Could you describe how this happens?
Restorative sea urchin roe enhancement consists of removing overgrazing urchins from the barrens; re-homing them in land-based aquaculture systems; feeding them an umami-rich, naturally derived and sustainable feed to grow their roe; and processing them for consumption. From harvesting to processing, it takes anywhere between 6 to 12 weeks, creating the most economic and ecologic value in the shortest amount of time compared to all other known forms of aquaculture.
This is where sea urchin enhancing happens. At CEAB's lab in Blanes. ©Urchinomics
Is sea urchin roe enhanced in other regions?
The idea of enhancing sea urchin roe is not new. As a concept it has been explored by aquaculture scientists for decades. However, it is not until 2021 in Japan that urchin roe enhancement has become a commercial venture. Trials and pilots are now being conducted by Urchinomics in Australia, Canada, Mexico, New Zealand, Norway, the United States of America, and now Spain, to see if other regions can also commercialize and restore ecosystems through urchin roe enhancement.
Are its benefits well documented in other regions?
Removing urchins from barrens to help restore kelp forests and seagrass meadows is well documented, with decades of research from leading marine research institutes from around the world. Urchin roe enhancement has been validated on nearly all commercial urchin species in the northern hemisphere. Trials are ongoing to see if the process can also add value to urchin species in the southern hemisphere.
What's next for the joint sea urchin project?
After this initial pilot phase, the CEAB, Urchinomics and the GFCM will be expanding the trials of Paracentrotus lividus in order to increase the scale of the project and further explore its restorative and local income generation potential and see if they can be replicated in Catalonia's waters and the rest of the Mediterranean. This work is carried out in collaboration with Catalan fishers and the Catalan Ministry of Climate Action, Food and Rural Agenda.
CEAB staff collecting urchins at a barren in Blanes. ©GFCM/Georgios Paximadis