LAUNCH OF THE SOIL POLLUTION NETWORK 
REGISTER HERE to join the LAUNCH EVENT
The Food and Agriculture Organization of the United Nations (FAO) has highlighted the threat posed by soil pollution to ecosystems' health and functions, biodiversity, and global food security. Industrialization, mining, waste and the intensification of agriculture have left a legacy of contaminated soils around the world.
21/03/2022
Thousands of naturally occurring and synthetic elements and compounds are released into the environment every year, having negative impacts on human health and the environment. Among those contaminants most commonly found are mineral oils and trace elements.
There has been rapid growth in scientific knowledge and the development of technologies to monitor, manage, and clean up polluted sites in recent decades. However, the information available is still limited in many countries and there are significant knowledge gaps that hinder informed decision-making.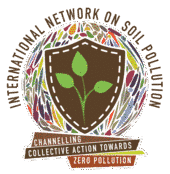 The International Network on Soil Pollution (INSOP) will be launched on 22 April at a virtual event, as part of FAO's observance of International Mother Earth Day. The launch event will open with a high-level panel and will continue with technical sessions introducing the Network, and defining objectives, governance, and priority activities.
INSOP has the overall aim of stopping soil pollution and achieving the global goal of Zero Pollution. INSOP will work to improve knowledge on the full cycle of soil pollution, from assessment to remediation. It will also strengthen technical capacities and legislative frameworks for the prevention of soil pollution and promote the exchange of experiences and technologies for the sustainable management and remediation of polluted soils.
Channelling collective action towards Zero Pollution
The INSOP has four main objectives:
Provide an international forum for the generation and dissemination of knowledge on soil pollution.

Promote and exchange good practices, practical and scientific skills and innovative solutions to manage polluted soils in a sustainable manner;

Establish interdisciplinary cooperative links between governments, academia, the private sector, and society to stimulate the development of cleaner and more sustainable solutions and consumption options; 

and

Strengthen technical and technological capacities through coordination among existing networks.
"As a member of INSOP, you will be able to share your management and clean-up practices and techniques, improve and extend the use of innovative technologies and participate in decision-making towards the development of global standards and best practices," said Sergejus Ustinov, the GSP's expert on soil pollution and facilitator of the Network.
INSOP membership is free of charge and its success is based on the active and voluntary participation of each one of its members.
To attend the virtual launch of the Network, please REGISTER HERE.
FILL OUT THE FORM TO JOIN THE NETWORK 
Discover more about the INSOP Network