Water tenure: Building equity and resilience to leave no one behind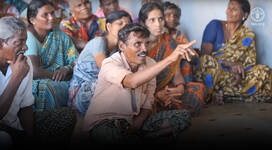 Providing access to land and water resources is fundamental to ensure local and national food security, especially in conditions of water scarcity, climate change and increased competition. Water is a vital resource for people's livelihoods. It is important to manage it efficiently and equitably. Water accounting and water tenure assessment provide a comprehensive understanding of the availability and access to water resources needed to manage water sustainably.
This video explains the concept of water tenure and why this concept is important to sustain smallholders' livelihoods and ensure that no one is left behind.
La tenure de l'eau : Renforcer l'équité et la résilience pour ne laisser personne de côté
Garantir l'accès aux ressources naturelles tels que la terre et l'eau est fondamental pour assurer la sécurité alimentaire locale et nationale, en particulier dans des conditions de pénurie d'eau, de changement climatique et de concurrence accrue. L'eau est une ressource vitale pour les moyens de subsistance des populations. Il est important de la gérer de manière efficace et équitable. La comptabilité de l'eau et l'évaluation de la tenure de l'eau permettent de comprendre la disponibilité et l'accès aux ressources en eau nécessaires pour gérer l'eau de manière durable. Cette vidéo explique le concept de la tenure de l'eau et pourquoi ce concept est important pour préserver les moyens de subsistance des petits exploitants et s'assurer que personne n'est laissé s'assurer que personne ne soit laissé de côté.
Sinhala version
FAO විසින් එහි ග ෝලීය ව්යාපෘතියක් වන ජලය පිළිබඳව වඩාත් ග ාදීන් ගත්රුම් ැනීම (Knowing Water Better - KnoWat) නමින් වන ව්යාපෘතිය විසින් නිපදවන ලද වීඩිගයෝව මගින් ජල භුක්තිය පිලිබඳ සංකල්පය ස සුළු ඉඩම්හිමි ග ාවීන්ගේ ජිවගනෝපායය ගනානැසී පවත්වාග න යෑමට ස ා කිසිගවකුත් අත්ගනා ැගෙන බව ස තික කෙ ැනීමට ගමම සංකල්පය වඩාත් වැද ත් වන්ගන් ගකස්ද යන්න කරුණු පැ ැදිලි කෙයි.
Tamil version
இது FAO இன் இலங்கையில் நடைமுறைப்படுத்தப்பட்ட, உலகளாவிய திட்டம் "தண்ணீரை நன்றாக அறிதல் (KnoWat)" வேலை, மூலம் தயாரிக்கப்பட்ட வீடியோ. செனகல் மற்றும் ருவாண்டா, நீர்த்தேக்கத்தின் கருத்துப்படிவத்தை விளக்குகிறார்கள். மேலும் அவர்கள், இந்த கருத்துப்படிவம் சிறுதொழிலாளரின் வாழ்வாதாரத்தை தக்கவைத்துக்கொள்வதற்கும் மற்றும் யாரும் பின்தங்கியிருக்காமல் இருப்பதற்கும் ஏன் முக்கியம் என்பதை பதிவு செய்கிறார்கள்.
Kinyarwanda version
Iyi videwo yakozwe n'umushinga wa FAO "KnoWat" ukorera muri Sri Lanka, Senegal n'u Rwanda. Isobanura imikoreshereze myiza y'amazi n'impamvu kuyakoresha neza ari ingenzi ku mihereho myiza y'ingo z'abahinzi b'amikoro aciriritse nta n'umwe usigaye inyuma.
Wolof version
Fexe ba domu adama bu nek di diot ci lu démé niki ndox ak suff dafa done lu ame solo nguir matale dound gou doy ci rewmi rawatina ci diamono yo xamné ñu beuri menuñ ci ndox tek. Wideo bi daf ñuy xamal tërëlinu doxalinu ndox ak lu tax mu ame solo ak fexe be koune diot ci lamu ca yélol be kenn du des gannaaw.