Subtropical climates: Zambia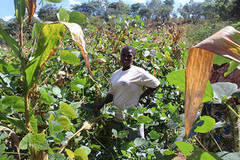 In ZAMBIA, a farm system approach captures the interactions between crop production, the environment and the influence of agricultural policy. It aims to prioritize policies and target field level solutions to increase the income and standard of living of smallholder farmers sustainably.
Use the Climate Change Adaptation tool to identify the most suitable crop varieties for any location in the country and identify the right period for planting.