The United Nations General Assembly designated 11 December "International Mountain Day". As of 2003, it has been observed every year to create awareness about the importance of mountains to life, to highlight the opportunities and constraints in mountain development and to build alliances that will bring positive change to mountain peoples and environments around the world.
The Food and Agriculture Organization of the United Nations (FAO) is the coordinating agency for the preparation and animation of this celebration and is mandated to lead observance of it at the global level. The Mountain Partnership Secretariat in the FAO Forestry Division is responsible for coordinating this international process.
International Mountain Day in the news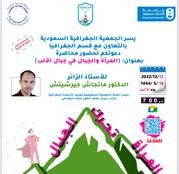 Online lecture about the key roles women play in mountains and three main achievements made in empowering mountain women.
La ville de Diego Suarez, tout au Nord de Madagascar, n'est pas en reste pour la célébration de la Journée Internationale de la Montagne 2022. En effet, le projet Kobaby, qui est un projet de renforcement...
How will you mark the day?
Check out the International Mountain Day social media kit for resources that can be shared widely across your networks.
Join the conversation on social media using the #MountainMatter hashtag. Pass on some of this year's key messages or take a photo of your favourite mountain and share it with us and your friends.
Organize or participate in activities that celebrate mountains, including virtual presentations and events, photo competitions, art exhibitions and hikes.
Promote your planned event by officially registering it on our gallery of events happening around the world.