Technical Session 2: Non-conventional water and food security – The Untapped Opportunities
Session Summary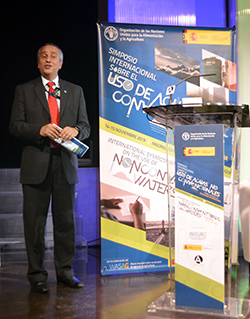 The session discussed the untapped potential of non-conventional waters and highlighted that the potential is great for nonconventional water use.. The technologies are currently available, and they need to be scaled up in order to achieve the goals of zero hunger and clean water and sanitation for all. All sources of water will be needed to achieve these goals.
Societal barriers exist related to the potential health concerns arising from the use of treated and untreated wastewater for irrigation. However, government regulations and the involvement of stakeholders would help with changing negative perspectives about the use of nonconventional waters for food production.
Some of the following challenges and way forward were identified:
Perception change about the utility of treated and untreated wastewater for irrigation. Wastewater is a resource.
Adoption of modeling techniques to evaluate alterative designs of treatment facilities in regard to both locations and methods, cropping alternatives and sites where the crops could be grown, and alternative methods to monitor the environmental consequences.
Assessment of water quality criteria, potential environmental impacts and regulatory issues need to be resolved to foster best practices and implementation of unconventional water resources.
Key take home points from each speaker:
Ms Aslihan Kerc presented Turkey's experience on the use of non-conventional waters. In Turkey, 75 percent of freshwater consumption is used for irrigation. She mentioned the example of Reuse of Urban Wastewater in Konya Closed Basin and Anatolia. She highlighted the importance of 1. Recognizing wastewater as a resource in water management plans; 2. Assessing the reuse potential; 3. Defining water quality criteria according to use area 4. Correct process selection in the design of wastewater treatment plants considering the circular economy concept 5. Legislation. The speaker also introduced the Global Wastewater Initiative (GW2I), which is a Global & Voluntary multi-stakeholder partnership hosted by UNEP Global Programme of Action. It aims at shifting the paradigm in world water politics, as well as to prevent further pollution and emphasize that wastewater is a valuable resource for future water security.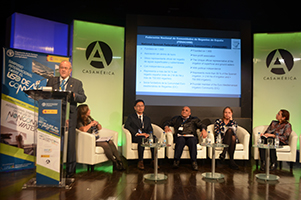 Mr Wang Yaosheng highlighted that China has a 30 billion m3 water deficit for irrigation in agriculture. He added that China's projected national water shortage could reach 130-260 billion m3 based on current water consumption levels for irrigation. The utilization of non-conventional water resources including reclaimed water and brackish water is an important solution to solve fresh water shortage, especially for alleviating the pressure of increasing water use in agriculture and the related environmental and ecological consequences. The unsustainable use of sewage irrigation and non-adherence to water quality standards, are increasing groundwater pollution and chloride, nitrate and ammonium concentration in water in China. Mr Yaosheng recommended the following four important work areas: research, nonconventional water management implementation, standards and regulations, and risk management.
Mr Ahmed Uleimat presented Jordan's experience in wastewater reuse. One of the major challenges that the country is facing is the fast population growth, which was 5.3 percent through the period 2004-2015. Mr Uleimat mentioned that reuse was introduced in Jordan in 1980. Approximately, 90 percent of treated wastewater is used for irrigation, of which (18 percent) is directly used to irrigate 3500ha.
Ms Natalia Carbonell presented SEIASA's work that contributed to the modernization of irrigation in Spain as well as on the use of non-conventional waters for food security. From 2004-2016, the modernization n of irrigation in Spain has allowed to reduce 16 percent water withdrawals for irrigation.
Ms Akissa Bahri presented on the advances and challenges to implement and grow agricultural water reuse in Tunisia. Water reuse and wastewater use are common practices especially for agricultural irrigation. Wastewater use can have various livelihood benefits and support food security but presents serious risks to human health. She identified the following major challenges of water reuse in Tunisia:1. Technical challenges: cost effective and reliable water reclamation technologies, storage, water quality; 2. Legal and institutional frameworks, water reuse standards and management of inadequately treated wastewater; 3.Finance and economics of wastewater treatment and reuse; 4. Public perception and acceptance; 4. Government support. She concluded that wastewater use is a prevalent practice with multiple tradeoffs and benefits. Agricultural water reuse is a key asset of a circular economy in view of water, nutrient, energy recovery but also social dimension such as job creation.
Mr Andrés del Campo García shared the experience of Spain on the use of non-conventional waters. He mentioned that Spain uses approximately350 and 400 Million m3 of reclaimed water for irrigation and, similarly, the use of desalinated water is estimated at 150-200 million m3. He highlighted that agricultural irrigation and biotechnologies are and will be the solutions to the global problem of water scarcity for food production as well as addressing malnutrition. The use of non-conventional waters offers greater guarantees of supply for food production.