Publications and Documents
In 2021, escalating civil unrest further displaced thousands of people in Myanmar, while a third wave of COVID-19 devastated the country. Nearly one in four people are currently experiencing moderate or severe food insecurity. With about three-quarters of the population relying on agriculture for their livelihoods, supporting rural households to restore their production is essential to the humanitarian response. Every USD 1 invested in vegetable production yields more than three times its value in harvests.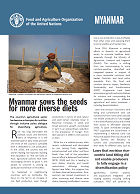 This brochure tells the story of how Myanmar is moving away from laws that envision rice-centric land titling and cumbersome land use conversions from rice to other uses. Such laws did not enable farmers to fully engage in this diversification policy, and limits their access to affordable seasonal credit. To spark immediate changes, FIRST supported the Government in implementing a National Land Use Policy that applies free crop choice and gives farmers flexibility to convert and unconditionally title their lands for different uses, such as agroforestry, rice-fish systems and aquaculture. This policy process, which has become more inclusive, is paving the ground for more diverse and nutritious diets.

This document summarizes the highlights and achievements of the Pro-Resilience Action project in Myanmar for the period 2019. The project is one of 10 pro-resilience projects in food crisis contexts implemented within the broader framework of the Partnership Programme supporting the Global Network Against Food Crises (GNAFC). In Myanmar, the aim of the European Union (EU) funded project is to restore and protect agriculture livelihoods of vulnerable communities in Buthidaung, Kyauktaw, Maungdaw, and Rathedaung townships in Rakhine State.

Risk Communication by the State Veterinary Service plays an important role in disease risk mitigation and is an integral part of risk management during animal health emergencies and zoonotic outbreaks. Effective communication recognises its unique functions as complementary to, but unique among, the other non-communication functions required during an emergency or outbreak response, such as, logistics, epidemiology and finances. Communication is uniquely positioned to build knowledge, influence attitudes, raise awareness, build perceptual associations between recommendations and stakeholders' or audiences' values, customs, and beliefs.