Sustainable Development Goals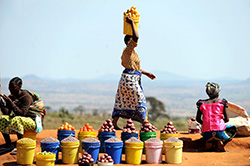 Addressing water scarcity in the agricultural sector contributes directly to the 2030 Agenda for Sustainable Development and the Sustainable Development Goals (SDGs) as well as the Paris Agreement on Climate Change. The 2030 Agenda aims to address multiple development priorities to make sure no one is left behind. The SDGs offer a vision of a fair, prosperous, peaceful and sustainable world. Food and agriculture are integrated comprehensively in the 17 goals and 169 targets.
WASAG's work on water scarcity in the agricultural sector is at the core of most of the seventeen goals. SDG 2 on ending hunger, improving food security and nutrition, and promoting sustainable agriculture, SDG 6 on ensuring availability and sustainable management of water for all, and SDG 13 on mitigating and adapting to climate change will be directly supported. The link between water, food security and the environment is also relevant to SDG 14 on oceans and marine resources and SDG 15 on ecosystems, biodiversity, forests and land, which provide the foundation of all food and agricultural systems. Increasing water use efficiency along value chains and reducing food waste and loss helps reduce demand for water resources and supports SDG 12 on sustainable consumption and production. Finally, the collaboration of different partners under the umbrella of the Global Framework on Water Scarcity in Agriculture also supports SDG 17 on global partnerships and SDG 5 on gender quality and female empowerment.
The Paris Agreement
The Paris Agreement provides opportunities for adaptation and mitigation actions in agriculture. Among other things, it establishes the global goal of increasing adaptive capacities, strengthening resilience and reducing vulnerability to climate change, with a view to contributing to sustainable development and ensuring an adequate adaptation response.
The Paris Agreement recognizes the fundamental goal of ensuring food security and ending hunger, as well as the vulnerability of food production systems to climate change. Adapting agriculture to climate change is closely linked to water management. Climate projections show less precipitation in semi-arid areas and more in temperate zones, higher variability in rainfall distribution, more extreme events, and higher temperatures. Reduced river base flows, increased flooding, and rising sea levels are predicted to affect highly productive irrigated systems dependent on glacier melt and lowland deltas. In the semi-arid tropics, increased droughts and floods are expected to reduce crop and livestock yields, harming the rural poor. Adaptation measures that build on existing good land, water and agricultural management practices enhance both resilience and water security. Innovative and sustainable water-management technologies, combined with appropriate policies and strategies, will help fight climate change.