About World Soil Day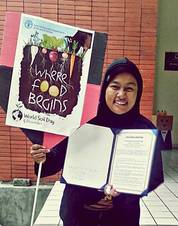 World Soil Day (WSD) is held annually on 5 December as a means to focus attention on the importance of healthy soil and advocating for the sustainable management of soil resources.
An international day to celebrate Soil was recommended by the International Union of Soil Sciences (IUSS) in 2002. Under the leadership of the Kingdom of Thailand and within the framework of the Global Soil Partnership, FAO has supported the formal establishment of WSD as a global awareness raising platform. The FAO Conference unanimously endorsed World Soil Day in June 2013 and requested its official adoption at the 68th UN General Assembly. In December 2013 the UN General Assembly responded by designating 5 December 2014 as the first official World Soil Day.
FAO, within the framework of the Global Soil Partnership (GSP), has received the official mandate to facilitate the implementation of the World Soil Day.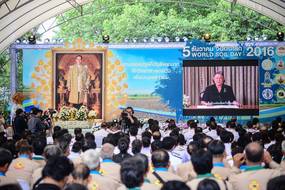 The date of 5 December for WSD was chosen because it corresponds with the official birthday of H.M. King Bhumibol Adulyadej, the King of Thailand, who officially sanctioned the event.
In 2016 this day was officially recognized in memory and with respect for this beloved monarch who passed away in October 2016 after seven decades as head of state.
2012 to 2016 with links to the related communication toolkits.
Theme of the year
World Soil Day 2022: Soils, where food begins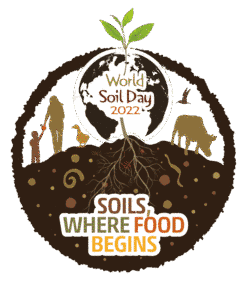 Did you know that there are more living organisms in a tablespoon of soil than people on Earth? Soil is a world made up of organisms, minerals, and organic components that provides food for humans and animals through plant growth.
Like us, soils need a balanced and varied supply of nutrients in appropriate amounts to be healthy. Agricultural systems lose nutrients with each harvest, and if soils are not managed sustainably, fertility is progressively lost, and soils will produce nutrient-deficient plants.
Soil nutrient loss is a major soil degradation process threatening nutrition. It is recognized as being among the most critical problems at a global level for food security and sustainability all around the globe.
Over the last 70 years, the level of vitamins and nutrients in food has drastically decreased, and it is estimated that 2 billion people worldwide suffer from lack of micronutrients, known as hidden hunger because it is difficult to detect.
Soil degradation induces some soils to be nutrient depleted losing their capacity to support crops, while others have such a high nutrient concentration that represent a toxic environment to plants and animals, pollutes the environment and cause climate change.
World Soil Day 2022 (#WorldSoilDay) and its campaign "Soils, where food begins" aims to raise awareness of the importance of maintaining healthy ecosystems and human well-being by addressing the growing challenges in soil management, increasing soil awareness and encouraging societies to improve soil health.
Download the official KEY MESSAGES | Short OUTLINE on World Soil Day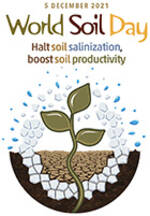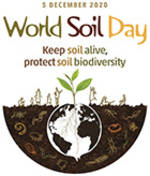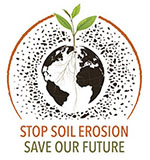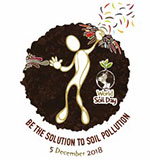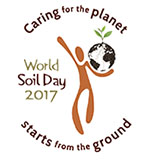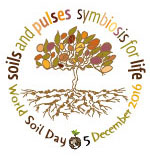 World Soil Day 2016
FAO/GSP dedicated World Soil Day 2016 to the theme "Soils & Pulses: Symbiosis for life", in celebration of the synergy between the International Year of Soils (IYS) 2015 and the International Year of Pulses (IYP) 2016. The book "Soils & Pulses: Symbiosis for life", presents decision-makers and practitioners with scientific facts and technical recommendations for managing the symbiosis between soils and pulses.
The fifth World Soil Day 2016 Flickr photogallery features fun photos of worldwide events.
Link to WSD 2016 communication material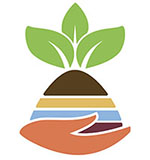 World Soil Day 2015
FAO was nominated to implement the International Year of Soil (IYS) 2015, within the framework of the Global Soil Partnership and in collaboration with FAO member countries. The theme for World Soil Day 2015 was "Healthy soils for a healthy life".
Special focus was placed on increasing awareness and understanding of the importance of soil for food security and essential ecosystem functions. Soils are a critical component of the natural system and a vital contributor to human wellbeing through its contribution to food, water and energy security and mitigation of biodiversity loss. It was celebrated by the global community of 60 000 soil scientists charged with the responsibility of generating and communicating soil knowledge for the common good of all.
Link to the IYS 2015 website | Link to WSD 2015 communication material
World Soil Day 2014
"The soils community could really contribute to the efforts of food security, hunger eradication, climate change adaptation, poverty reduction and sustainable development"
This is how FAO and the GSP secretariat started their words of welcome during the first official celebration of World Soil Day... Soil specialists, politicians, leading experts, and top officials from all across the globe convened at FAO headquarters to emphasize the importance of soils beyond the soil science community.
Link to WSD 2014 communication material
World Soil Day 2013 & 2012
Recognizing the importance of soils, under the framework of the Global Soil Partnership and with the unanimous support of FAO members, the 37th FAO Conference endorsed 5th December as WSD and requested the UN General Assembly to provide its final endorsement. Since then the soils community has an important opportunity as soils are placed high in global discussions.
Link to WSD 2013 communication material | Link to WSD 2012 communication material