Did you know that over 65 million people were forced to leave their homes because of conflict in 2015? People are still leaving their homes today because of ongoing conflicts. Many come from rural families - farmers, herders, pastoralists, and fishermen. They are often already at risk of going hungry or falling into poverty. In fear of their lives, they flee their homes. They see no end to the fighting and have lost, or risk losing, everything. People who are forced to move to a different part of their own country are called Internally Displaced Persons (IDPs), while those who have to leave their own country are termed refugees. Most IDPs and refugees live in developing countries. This is a challenge for developing countries who may already be struggling to support their own populations.
Hunger, ineffective and weak governments, livestock movements, sharing limited natural resources (especially water and land), and climate change impacts can all lead to conflicts between local farmers, or between locals and displaced people.
It is also worth remembering that not everyone can, or wants to, flee. Did you know that in most conflicts over 80% of rural people remain behind? Farmers don't want to abandon their land or animals. Even if it is very hard to reach them, people that stay behind also need help to survive.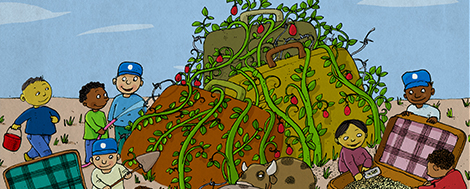 Although FAO cannot stop wars and conflict, we can help host countries and communities, the people that flee conflict, people remaining in conflict areas, and countries affected by conflict to recover. FAO supports people in crisis and, once war has ended, helps farmers to get back on their feet to produce food again. We provide emergency assistance through cash transfers, crop seeds, like quick growing and nutritious vegetables, livestock and basic tools. FAO is working in some of the worst war-torn countries including Syria, where we are helping farmers to produce food, and in Yemen, by helping IDPs and their host communities to start rural activities and make money.
We help those who have fled due to conflict to settle into their new homes, and give support to the communities hosting new groups of people. It is important to remember that refugees and IDPs deserve protection, respect, safety and dignity, and we all need to stand together against acts of discrimination.
FAO can also help to prevent and reduce tensions that might lead to conflict. We work with communities to better manage their natural resources, encouraging farmers to solve arguments over livestock or natural resources in a peaceful way through discussion and negotiation.