Key information and guidelines on COVID-19 for Farmer Field Schools
Many members of our FFS community worldwide are affected by COVID-19 in different ways. Access to healthcare, medicine, water and sanitation is often inadequate in rural areas, where most of the world's poorest and hungriest people live, and depend on agriculture for their livelihoods. Disruptions in agricultural value chains as a result of restrictions of movements and border closures, are already threatening the livelihoods of small-scale farmers and access to food and livelihoods in cities. In many countries, restrictions and precautions also mean that FFS cannot meet at all, or that activities have to be adapted.
In today's crisis, FFS sessions can either result in spreading the virus, or be an opportunity to sensitize people if you carefully follow all recommendations.

Better be safe than sorry. Be careful. Be safe!
Keep in mind!
Review planned activities and sessions and consider cancelling some sessions
Prepare a plan reducing ALL activities requiring physical contact to a strict minimum.
If possible, prioritize digital solutions to continue supporting smallholder farmers.
Always follow the guidance of your Government and your institution in deciding whether it is appropriate to hold FFS sessions and other agricultural trainings in your current context.
Deciding how to adjust training activities based on the local situation
IF…

THEN…

Your country or area is in lockdown due to COVID-19 emergency

Postpone all FFS and other field training activities.
Liaise with FFS host farmers to manage the FFS plot or herd
Keep in touch with FFS members and farming communities, making sure to reach also women and youth; disseminate reliable information about basic protective measures through phone, FFS WhatsApp groups and other available means.
Increase the use of phone and digital tools to continue learning
Partner with rural and community radios to raise awareness about the virus and basic protective measures.
Adhere to government regulations and protective measures when implementing any cash, voucher or relief distribution activities, if they are permitted.

Your country or area has adopted restrictive measures, but meetings and field activities are allowed

Consider cancelling or postponing FFS and other agricultural training activities.
Reduce the number of sessions to a minimum (i.e. critical activities only)
Postpone open field days and FFS graduation.
Reduce FFS participants to a small number to take care of the plot/ herd; they will later share findings with others. Facilitators and host farmers can also carry out field activities themselves.
Use phones, digital tools and videos to disseminate relevant information and support continued learning
Strictly implement recommended basic protective measures if and when FFS or other training activities take place
Use farmer field schools to raise community awareness on the COVID-19 virus
Partner with other community development and communication approaches such as Dimitra Clubs and community radios for coordinated outreach and awareness raising

Your country or area has little or no restrictions on group activities, but there are concerns about how the situation may evolve

If FFS or other training activities take place, strictly implement basic protective measures
Use FFS and field training activities to raise awareness of rural communities on safety and hygiene measures to prevent spread of COVID-19 and other viruses and diseases
Key principles if FFS activities take place
For activities involving gatherings that will continue, the facilitator is strongly advised to plan according official guidelines and precaution measures to minimize the spread of the COVID-19 infection
Agree on and strictly follow special hygiene procedures in the FFS.
Handwashing is not optional. It is mandatory for all (facilitator and participants). It must be done at least at the beginning and end of the FFS session.
Physical distancing of 1-2 meters is mandatory to prevent transmission. The wearing of a mask for each participant is strongly recommended
If the facilitator or a participant is feeling sick with COVID-19 symptoms, he/she should NOT participate in the training session and should call a local health authority for guidance. Participants should remind each other when guidelines are not followed. If a member does not wish to follow guidelines, then they should not attend the sessions.
Include special topic on COVID-19 to discuss with participants.
Stay informed and disseminate essential information on COVID-19. Cross-check information and make sur not to share fake news!
Take particular caution for vulnerable people
Be a role model at all times!
Stay connected as a webinar on COVID-19 and FFS will soon be organized.
Resources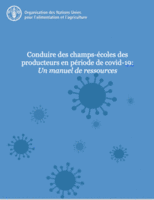 The document "Running farmer field schools in times of COVID-19: a resource handbook", containing key information, guidelines and COVID-19 related activities is now available to all the FFS community in English and French. Spanish and Arabic versions will soon be available.
Click here below to access the handbook:
Posters on precaution measures against COVID-19 are now available in English, French, Spanish and Portuguese. Russian and Arabic version soon available.
Click here below to access the posters: