Climate Change and Farmer Field Schools
Climate change and sustainable development are strongly linked. The poor and least developed countries are the most vulnerable, and will be most adversely affected and also the least able to cope with the impacts of climate-related disasters.
The United Nations Sustainable Development Goal (SDG) 13 – Climate Action – aims to strengthen every country's adaptive capacity and resilience to climate change-related natural disasters and hazards. It also aims to improve awareness raising, education and institutional and human capacity on mitigation, impact reduction, early warning and adaptation to climate change (MDG Monitor, 2016).
Farmer field schools (FFS) have long been used to enhance critical thinking and informed decision making by local communities through testing innovative solutions to improve production and livelihoods. FFS can make a major contribution towards building rural communities' adaptive capacity for mitigating risks relating to impact of climate change and achieving SDG 13 – Climate Action.
The FFS approach – characterized by "grass-roots labs" and innovation – ensures a continuous process for updating the information base needed to cope with Climate Change. FFS for climate change modify the focus according to the local context:
Adaptation of agricultural practices to face specific effects of Climate Change – technologies include enhancement of moisture retention, improvement of soil fertility, protection from water and wind erosion, and introduction of agroforestry or drought-tolerant varieties.
Attention to local knowledge on resilient practices – for example, indigenous perceptions of extreme events and their impact at village level and traditional indicators to forecast the weather.
Analysis of cropping systems and weather patterns to identify risks and promising adaptations – the FFS measures rainfall and temperature, interacts with meteorological centres and evaluates crop water requirements.
The main scope of FFS curricula on climate change is usually to improve adaptation, although most of the adopted practices and technologies contribute to mitigation.
The processes followed in setting up an FFS focused on Climate Change adaptation programme are the following:
During the preparatory stage, the Baseline Climate Change Community Vulnerability Assessment is carried out, through a Community Resource Mapping exercise with community members. The assessment includes consideration on the community exposure and sensitivity to weather stresses and threats on production and natural resources.
Baseline assessment exercises are used to identify adaptation strategies and options to be tested in field studies and special topics to be integrated in the FFS curriculum.
The FFS learning process make experimentations in the field of the identified options to analyze how the different treatments in the field studies respond to specific weather stresses. This assessment allow to understand whether the different practices offer farmers adaptive solutions, or not.
Experimentations and lessons learnt gained from FFS activities are used to develop a climate adaptation plan and to spread the benefits of the new technologies and practices to cope with climate change.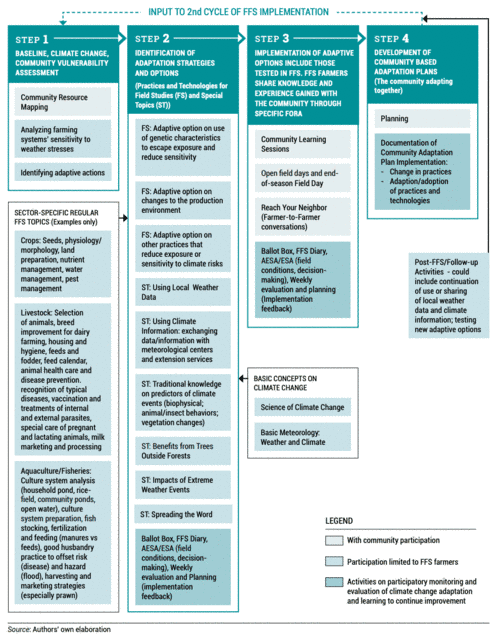 More
SRI-LMB Mitigation project: farmers try out practices that reduce methane emission
In 2013, the Asian Institute of Technology (AIT) partnered with FAO and national IPM programmes to implement the training component of the EU-funded project titled "Sustaining and Enhancing the Momentum for Innovation and Learning around the System of Rice Intensification (SRI) in the Lower Mekong River Basin". The project – with a strong research focus – sought to stimulate local innovation using SRI practices and Farmers' Field School (FFS) approaches involving smallholder farmers in rainfed areas of four LMB countries (Cambodia, Laos, Vietnam and Thailand) to contribute to enhanced resilience and sustainable production in the context of climate change adaptation and mitigation.
15 000 farmers (> 50% women) were involved in FFS activities, through which 1,500 experiments/field studies were carried out over four years (2014-2017). These field studies explored individual SRI practices in detail (e.g. planting distance, intermittent irrigation, etc.) as well as the application of combinations of SRI practices. Combined results of the project at regional level showed that SRI practices helped to improve farmers' livelihoods and the environment through:
increased average rice yield by 52%, and net economic returns by 70%;
increased labour productivity by 64%, water productivity by 59%, and fertilizer use-efficiency by 75%;
decreased total energy input for farming operations by 34%, along with significant reductions in per-hectare net emission of greenhouse gases, respectively by 14% with irrigated rice production, and by 17% in rainfed cropping.