Markets for Artisanal Fish Product Storage
There are several links between storage, markets and food loss and waste (FLW) prevention and reduction:
Wholesale and retail market infrastructure should cater for the needs of processors and traders by providing proper storage facilities that prevent and reduce FLW and effective management should maintain such services/facilities.
Using the appropriate packaging of products during storage affords protection against pests, and assuming the product is dried correctly, against mold growth. For example, plastic packaging provides good protection against insect infestation and plastic boxes are used to protect dried fish from rodent attack. Packaging also enables products to be labelled and meet the standards required by high value markets. Thus, packaging can not only be used to protect products during storage, but also to add value and improve market access.
Artisanal fish products with low moisture contents are associated with potentially long storage lives. This means that if storage conditions are good, product quality can be maintained, and wastage due to insect infestation addressed, then products can be sold according to market demand, enabling supply and demand fluctuations to be evened out over time.
Access to certain markets, such as the EU, requires products to be free of insect infestation and mould growth. Aiming to supply markets which have stringent food safety requirements will encourage the use of good storage practices, automatically leading to actions which address the causes of FLW.
Many artisanal processed fish products are important low value sources of protein and nutrients to less well-off consumers. Therefore, in terms of food security of vulnerable populations, making more products available and maintaining product quality, nutritional value and an affordable price is an important aspect of market access.
More Resources
More Resources

One of the major issues prevailing in the fisheries and aquaculture industry in Sri Lanka is the high loss and waste of fish, and it has become necessary to introduce strategies aimed at preventing and...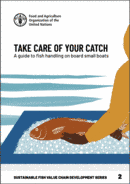 What happens to fish after it is caught has a big impact on its quality. This guide is for fishers, vessel owners, extension services, and anyone interested in how to maintain fish quality.

In order to support long-term capacity building for women, the SSF Umbrella Programme conducted a review to identify successfully adopted post-harvest best practices that should be disseminated more widely to help reduce fish loss and...