Regulatory Environment for Artisanal Fish Product Storage
Regulatory authorities should be equipped to implement national food law –which will often entail extension to educate processors and traders, advisory services, and enforcement – and establish standards. Food law should lay out the requirements for good fish storage practices and food safety requirements that minimizes food loss and waste (FLW). Food standards should encourage the uptake of good storage practice and be made available in a format understandable by traders and processors.
The Codex Code of Practice For Fish And Fishery Products describes storage as a process in which products are kept under conditions to assure their safety and quality. Particular guidance is given in Sections 3 and 6 of the Standard for Smoked Fish, Smoke-Flavoured Fish and Smoke-Dried Fish.
Encouraging the uptake of improved technology and practices can be promoted at the local level by the development of bylaws which make it a requirement that well designed storage facilities and associated hygienic practices are used.
More Resources
More Resources

One of the major issues prevailing in the fisheries and aquaculture industry in Sri Lanka is the high loss and waste of fish, and it has become necessary to introduce strategies aimed at preventing and...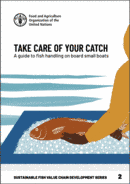 What happens to fish after it is caught has a big impact on its quality. This guide is for fishers, vessel owners, extension services, and anyone interested in how to maintain fish quality.

In order to support long-term capacity building for women, the SSF Umbrella Programme conducted a review to identify successfully adopted post-harvest best practices that should be disseminated more widely to help reduce fish loss and...